Alastair Cook: England defeat by Australia in Brisbane 'emotional'
Last updated on .From the section Cricket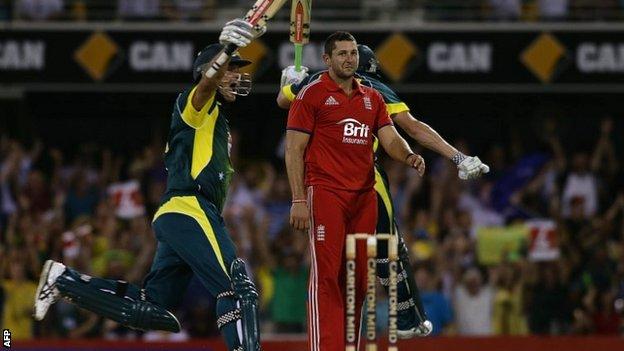 Captain Alastair Cook said England's dressing room was "a tough place to be" after a one-wicket defeat by Australia in the second one-day international.
James Faulkner's remarkable unbeaten 69 from 47 balls saw Australia home with three balls remaining after Eoin Morgan hit 106 in England's 300-8 in Brisbane.
"It's an emotional dressing room right now," skipper Cook admitted.
"But when we look at it in the cold light of day, it was an astonishing innings that beat us."
Faulkner, 23, shared in an Australian record one-day international final-wicket partnership of 57 as the home side moved 2-0 ahead in the five-match series, with the next game in Sydney on Sunday.
"We did a lot of good things here," Cook said. "Obviously I'll have to look at our last few overs but I'm proud of the way we got stuck in. Little things needed to go our way and they didn't.
"Morgs [Morgan] played exceptionally well and 300 was defendable. And we did everything right until the last wicket.
"It's obviously tough being a bowler now, but James played an astonishing innings."
Morgan may not be available to help England attempt to bounce back quickly at the SCG after sustaining a calf injury, which forced him to be replaced in the field for the final 10 overs by Michael Carberry.
England's options late in the game were also limited after paceman Boyd Rankin was forced off with a hamstring injury and he too is doubtful for Sydney, although Stuart Broad will be available again after being rested for the opening two matches of the series.
"Boyd has a tight hammy. I've got a tight calf," said Morgan. "We'll see over the next 24 hours how I pull up."
He added: "We didn't finish as well as we would have liked. We let ourselves down a small bit. I think that can be said."
England limited-overs coach Ashley Giles now has the unenviable task of picking the players up after an eighth consecutive defeat in all formats against Australia - dating back to last summer.
"We played some good cricket but that innings by Faulkner was just too much. It was brilliant from him, but we have got to be better at the death," he said.
"Guys are learning out here and sometimes it's a steep learning curve. We had them 240-9 so I think we got the position pretty right today. Nine-and-a-half times out of 10, you would win from that position.
"These guys never lack the ambition or the attitude but we need to make sure our execution is right and maybe we didn't quite get it right.
"We haven't got an experienced bowling unit. We need to learn from these experiences here this year and I hope those guys do that.
"It's not a nice way to learn sometimes because I can tell you they're feeling pretty gutted in the dressing room, but sometimes that happens."
Australia captain Michael Clarke hailed Tasmanian Faulkner, who smashed five sixes and three fours, saying: "I've seen James doing it before. He's the new finisher, the new Michael Bevan.
"What an innings, that was unbelievable. I would have liked a few more wickets in hand, but James showed he's an incredible talent who strikes the ball as well as anybody.
"It's nice that we are playing with confidence. People believe that if they are in at the end, they can win a game for us."