Alastair Cook ponders future as England one-day captain
Last updated on .From the section Cricket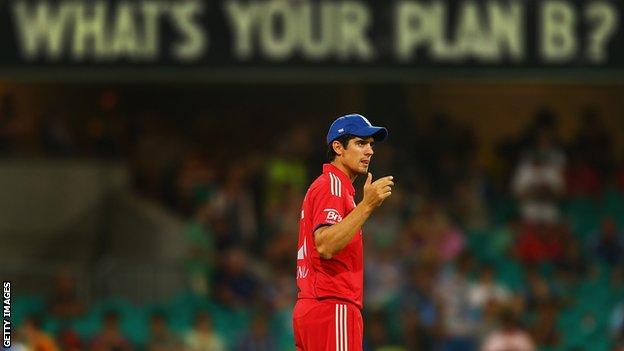 Alastair Cook says he could resign as England one-day captain after Australia won the limited-overs series.
Having lost all five Ashes Tests, England slid to their third successive one-day defeat on the tour as Australia took an unassailable 3-0 lead.
"I think English cricket needs a little bit of a change," said Cook, who became one-day captain in May 2011.
"I think there will be some changes. We have kept losing games of cricket and I haven't been able to turn it around."
Cook replaced Andrew Strauss as skipper, leading England to the final of last year's Champions Trophy where they were beaten by India in a match reduced to 20 overs per side at Edgbaston.
He has won 29 of his 52 international games in charge, but asked whether he wanted to continue as one-day skipper.
Cook said he could not make a decision on his future "in the middle of the series", adding he did not know how he would feel back in England.
With two one-day matches left, he added: "I've got a job to try and turn this around, try and win one of these games. That's the task at hand.
"I'm competitive. I want to leave everything out on the pitch. We'll deserve the stick we get because we haven't won games of cricket. Simple deal."
The left-handed opening batsman, who made his ODI debut in 2006, has scored 2,742 ODI runs in his 75 matches at an average of 38.08.
"I want to be part of a successful one-day team," he added. "I feel that I'm a good enough player to do that and my record suggests that I can do that."
England lost the final one-day international at home last summer to concede the series 2-1 and have now lost nine successive matches in various formats against the Australians.
On a dismal tour that has seen Jonathan Trott, Graeme Swann and Steven Finn leave early because of a combination of illness, lack of desire and poor form, Cook's team have won only two matches against modest representative opposition.
Only Eoin Morgan passed fifty in the latest defeat at the Sydney Cricket Ground.
"We were at least 30 or 40 runs short," said Cook. "Everyone got 20 or 30-odd and we didn't convert to big scores and a hundred as we did the other day in Brisbane.
"They've won a lot of cricket against us over the past two months and it's difficult to stop that."
Meanwhile, Australia counterpart Michael Clarke confirmed he would be rested for the next match in Perth on Friday, before returning for the finale in Adelaide on Australia Day, 26 January.
"The bowlers did a fantastic job on a pretty good batting wicket and a very fast outfield," he said. "Both our spinners, Xavier Doherty and Glenn Maxwell, did a fantastic job."