World Twenty20: Ireland proves perfect fit for Phil Simmons
By Alvin McCaig
BBC Sport NI
Last updated on .From the section Cricket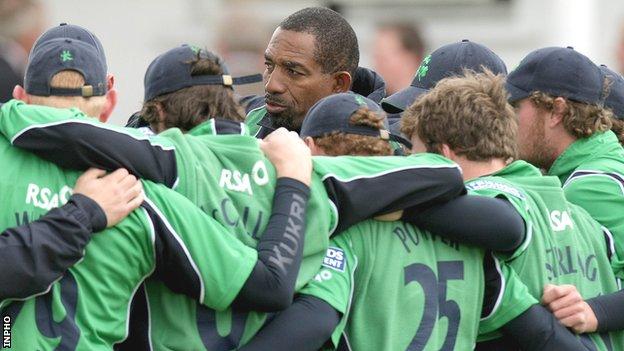 The Emerald Isle is an ideal home from home for Phil Simmons.
An interview with the Ireland coach - the epitome of West Indian laidback cool - is more like shooting the breeze with an old friend.
During his seven years at the helm, Simmons has cemented Ireland's place as the top Associate team, with 10 trophies secured in a story of consistent success.
The 50-year-old former Test all-rounder loves his job but it's also the life experience in a land far from his native Trinidad that he relishes.
A man not suited to the city, he lives north of Dublin in the sleepy seaside town of Malahide while his wife and three children are based in London.
It is the easy pace of Irish life, and an affinity in outlook, which gives Simmons a sense of belonging.
"There's a feeling of relaxation here and the Irish attitude of enjoying life to the full is similar to that in the Caribbean," said Simmons.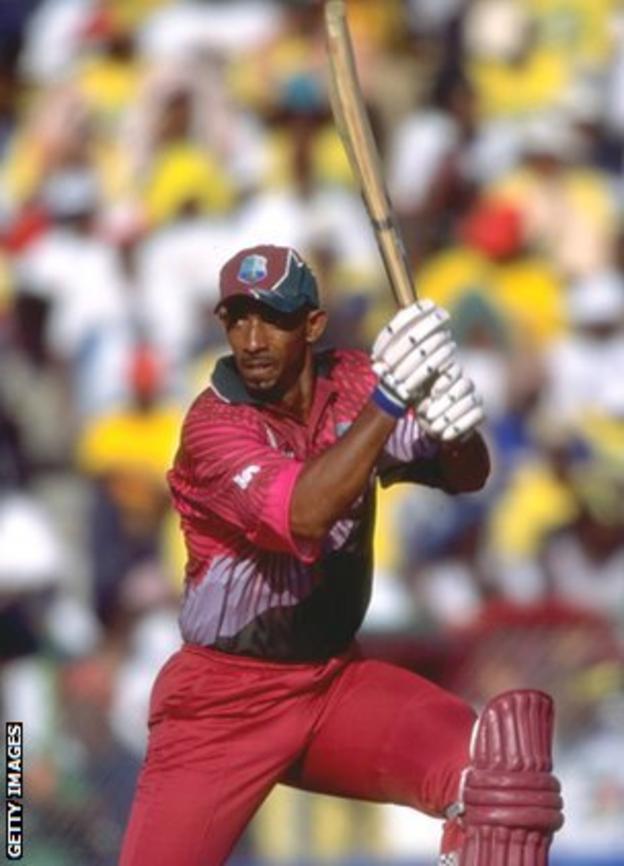 "I can't stand the hustle and bustle of cities but I can nip in and out of Dublin when I want and Malahide really suits me.
"There's also a similar attitude towards enjoying sport and I love going to watch Ireland and Leinster in rugby and the Dublin GAA team.
"I remember watching Ireland playing in Jamaica at the 2007 World Cup - their supporters were fantastic, cheering on the team but also having plenty of fun."
Simmons played 26 Tests and 143 one-day internationals for the West Indies in a career which included spells with Durham and Leicestershire.
He nearly died in 1988, when his heart stopped and he required emergency brain surgery after after being struck in the head by English fast bowler David Lawrence.
Simmons made a full recovery and figures of three runs and four wickets from 10 overs against Pakistan in 1992, remains a record for the most economical bowling in one-day internationals.
He moved into coaching after retiring in 2002 and replaced Adrian Birrell in the Ireland hot seat after a brief spell in charge of Zimbabwe.
Ireland go into this month's World Twenty20 in Bangladesh boosted by victory over the holders last month. The six-wicket success against West Indies at Sabina Park was yet another big scalp for the Irish, but Simmons feels they need to win on more regular basis against the game's elite.
"Victories over the leading teams have been fantastic but we need to do it more often, particularly at home," he said.
"Last year against Pakistan we had the chance to win but missed out, they just had that bit more experience and know-how than us.
"Sri Lanka are the visitors this year and hopefully if we get the opportunity to win we will grasp it.
"Everything is about progress - at major tournaments, like the upcoming World Twenty20, our aim is to qualify from the group stages, not just pick up an occasional victory."
The long-term target is acquiring Test status, the holy grail of Irish cricket, and this may come sooner that expected.
Ireland are working towards 2020 as a date to join the cream of cricket, but the ICC offered an avenue for earlier entry last month. The Intercontinental Cup winners will take on the lowest-ranked Test nation in a play-off, with Test status the prize for the winners.
Ireland would expect to at least make the play-off and the boys in green could be playing Test cricket in 2019, with England already offering to be opponents if they do just that.
Simmons signed a new deal in December which keep him in charge until 2015, although he hopes to finish his coaching career in the West Indies. However, before departing for warmer climes, he is determined to help Ireland achieve its long-held objective.
"The new interpro series has been fantastic and Malahide is a perfect venue for Test cricket - I'm confident we will be ready for the step up," said a bullish Simmons.
"I've seen this team progress and it's been very satisfying as a coach to help in the development of players like George Dockrell and Paul Stirling from the age of 16.
"Yes, it's always been my ambition to coach the West Indies. Home is home, and I want to give something back, but everything happens in the right time. At present I'm just focused on Ireland, I'm happy here and I want to play my part in exciting times ahead."