ICC World Cricket League: Guernsey name youthful squad
Last updated on .From the section Cricket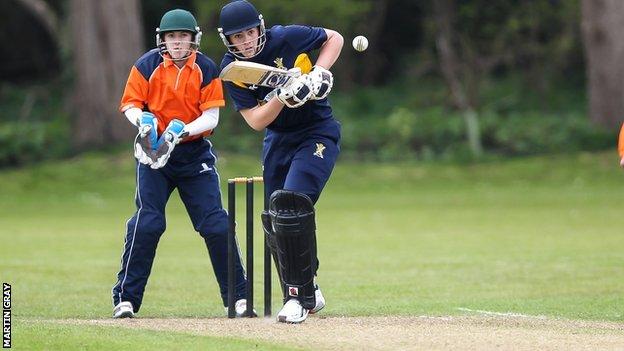 Guernsey director of cricket Nic Pothas has named a provisional 18-man squad for the ICC World Cricket League Division Five competition in March.
"It's been a very productive winter and I am very happy at how the players have progressed," said Pothas.
Bowler Jamie Nussbaumer will captain the side in Malaysia.
"True to what the squad have set out for themselves, improvement, awareness and progress through hard work has certainly been achieved," added Pothas, who will need to cut the squad down to a 14-strong group before the start of the competition.
"The squad has a very youthful look to it which aligns with us striving to be the best fielding team at the tournament as well as the fittest and most mobile.
"It goes without saying that the skill element is vital to winning games of cricket and I am pleased with the development of all squad members to this end.
"It is an honour to represent your country and therefore, as always, there will be players who will be disappointed not to make the final 14. How the unlucky few react to this will be key to their future progress."
Guernsey will take on Channel Islands rivals Jersey, hosts Malaysia, Nigeria, Tanzania, Jersey and Cayman Islands with the top two gaining promotion to Division Four.
"'It is great to see the junior players now coming into the set-up, some now becoming established members," added team manager Mark Latter.
Guernsey kick off their campaign against Cayman Islands on 6 March.
Guernsey provisional squad for World Cricket League Division Five:
Jamie Nussbaumer (captain), Will Peatfield, Zac Damarell, Matt Stokes, Lee Savident, Tom Kimber, Max Ellis, Ben Ferbrache, Lucas Barker, Oliver Newey, Oliver Nightingale, Adam Martel, Jordon Martel, Jason Martin, James Gale, David Hooper, Luke Le Tissier, Matthew Breban