Shane Warne mentors Australia's spinners for World Twenty20
Last updated on .From the section Cricket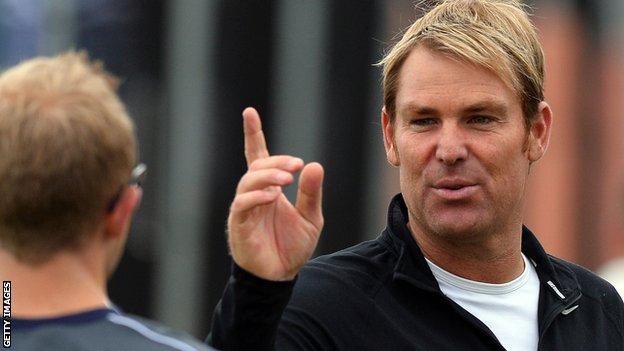 Australia have appointed Shane Warne as the official mentor to their spinners ahead of this year's World Twenty20.
The 44-year-old legendary leg-spinner will join Australia's squad in March during their tour of South Africa.
He will be present for three Twenty20 matches, their final preparation before flying to Bangladesh for the start of the World Twenty20 on March 16.
"I'm excited to be working with Australia's spinners in South Africa," said Warne.
"I'm looking forward to helping them with some intense bowling preparation ahead of the World Twenty20, where we'll specifically work on tactics and mindset."
The appointment of Warne, formerly the record Test wicket taker with 708 victims, in an official capacity continues a policy adopted by coach Darren Lehmann to tap the knowledge of former players.
Lehmann asked Warne to speak to Australia's spinners during last summer's Ashes series, prior to the third Test at Old Trafford.
"In the case of the ICC World Twenty20, we believe spin bowling will be critical to success," said Lehmann. "There's no better person than Shane to help guide the spinners we select in that squad.
"He was a gifted cricketer and remains passionate about spin bowling and seeing our players be the best that they can be. We're thrilled to have him on board."
Australia Twenty20 captain George Bailey also welcomed Warne's appointment, adding: "I'm thrilled to have him on board as a spin coach, but I think he brings so much more to the table - he'd be one of the leading thinkers on Twenty20 in the world, tactically."