Scotland's Calum MacLeod pleased with 'special day' after 175
Last updated on .From the section Cricket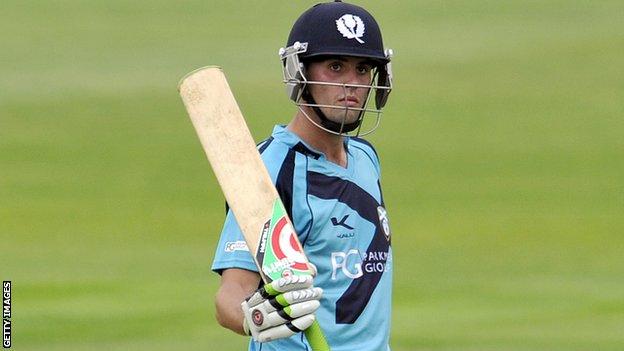 Calum MacLeod was delighted to amass a hugely impressive 175 runs during Scotland's win over Canada at the World Cup qualifiers.
A record Scottish tally is also the second highest score by an Associate player in an one-day international.
And the knock, from 141 balls, puts him joint 19th on the all-time list.
"It's a pretty special day; not one I'm likely to forget," said MacLeod. "But more importantly, it contributed to a strong win for the team."
The 170-run victory ensured a place in the Super Sixes phase of the tournament, with two teams going on to next year's finals.
"The Super Sixes is where it starts and if we can keep playing the same aggressive brand of cricket, hopefully our hard work will pay off," MacLeod told BBC Scotland.
United Arab Emirates and Hong Kong join Scotland in progressing from Group B, while the Scots will be up against the top three from Group A: Papua New Guinea, Namibia and Kenya.
PNG take four points forward, while Scotland, UAE, Hong Kong and Namibia all carry two points and Kenya will start from scratch, ahead of the next stage of action which starts on Sunday.
MacLeod scored 113 and 46, respectively in the pool wins over UAE and Nepal and he is heartened by pre-tournament victories against two of their next opponents.
"We played warm-up games against PNG and Namibia and if we can put the same kind of performances in again then we should be happy," MacLeod explained, having reached 71 against the Africans.
MacLeod was third top scorer at November's World Twenty20 Qualifier, with team-mate Matt Machan leading the way. However, the tournament ended in failure for Scotland as they finished outside the six qualifying places.
Head coach Peter Steindl was removed from his post, with Craig Wright and Paul Collingwood taking temporary charge for this event in New Zealand.
"They haven't really changed a lot," said MacLeod when asked about the new duo's approach.
"They asked us as a group of players what we expected of ourselves. It was an honest, open discussion and we demanded more of each other.
"Our performances over the last 18 months haven't been good enough. It was vital to start setting higher standards."
Former Warwickshire batsman MacLeod, who turned out briefly as a 12th man for England in 2009, had lost his way prior to the Twenty20 event in the UAE and was overlooked for the summer visit from Pakistan.
"It was probably one of the best things that happened to me," he reflected. "I had a couple of games on the sidelines and had the chance to really assess where my game was.
"I went right back to the basics, looked at some good footage and saw a couple of little things I was doing differently and set about working hard to correct things.
"And so far, luckily, the confidence is there for me to go out and execute what I'm practicing."