England's five-point plan for 2015 Cricket World Cup
By Sam Sheringham
BBC Sport
Last updated on .From the section Cricket221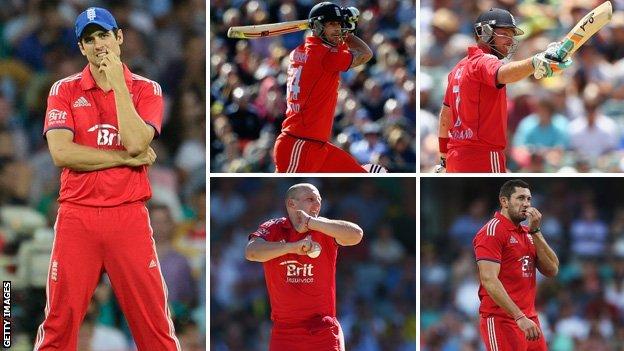 If England's two series defeats in Australia were made into horror movies, the 4-1 one-day loss probably wouldn't warrant the same X-rated classification as the Ashes whitewash.
But there were still enough stomach-churning moments to leave England supporters watching from behind their sofas.
Just one year before the World Cup in Australia and New Zealand, England produced a series of a unconvincing displays that provided more questions than answers about their talent and tactics in the 50-over format.
With input from former one-day captain Adam Hollioake, BBC Sport examines the five biggest issues facing England's one-day side before next year's showpiece down under.
Firm up the captaincy
Three defeats into the one-day series, England Test and one-day captain Alastair Cook admitted he was considering his position and suggested the team could benefit from a change of direction.
One match later, Cook claimed his comments had been an emotional response to another loss, and said he was "desperate" to carry on leading in the team.
When they reflect on the tour, the England management team will need to decide whether the teams' interests are best served by keeping Cook in charge of both formats, or whether the one-day team would benefit from a fresh approach under the leadership of either Stuart Broad or Eoin Morgan.
Broad will get a chance to stake his claim when he captains the side in Cook's absence for the West Indies tour in February and March.
"Everyone is asking Cook what he wants to do but sometimes these decisions are best taken out of the individual's hands," says Hollioake, who formed part of England's first split captaincy in the 1990s when Michael Atherton was in charge of the Test side.
"Cook is a fine player and a great human being, but the number one thing about being captain is to make sure your own game is in order.
"They've got to make their mind up based on whether they think he can get his game back. To me, a great opening batsman is far more important than a captain.
"If they are going to change it, do it now and let's move on and build for the future. If not, let's stop the speculation and get on with it."

Prioritise one-day cricket
When England decided to take the unprecedented step of having separate coaches for their Test and limited-overs sides, it was billed as an opportunity to offer greater focus and direction to the one-day team.
In some ways, it has done exactly the opposite, merely underlining the inflated importance England give to Test cricket at the expense of other formats.
While Andy Flower can pick his Test side from the full buffet, limited-overs coach Ashley Giles is too often asked to feed on scraps as key players are rested from England's one-day commitments.
Kevin Pietersen has only played four one-day internationals in the past 12 months, and James Anderson has not featured since the Champions Trophy final in June after being rested following both Ashes series.
The Australians favour a different approach, waiting until the home one-day series was won before giving key men such as captain Michael Clarke and Brad Haddin a breather.
After the fifth match in Adelaide, Giles and Cook both made noises about the importance of one-day cricket in the coming months, but Cook's absence from the West Indies tells a different story.
"For as long as I can remember, England have chopped and changed their side right up until major tournaments and that's no way to go about winning the World Cup," says Hollioake. "They've got a year to go, they need to get their head down, pick a side and stick with it.
"For me, every time you get picked for your country it should be an event. I can't remember anyone coming to me and asking if I needed a rest. If you are playing for your country you want to get out there."
Start from the top
England's batting tactics in Australia were based around the principle of laying a solid platform at the top of the order to allow their middle order dashers to provide the acceleration.
It is a strategy that paid off as England reached the final of the Champions Trophy on home soil in 2013, but looked old-fashioned on the faster, bouncier pitches in Australia where there is more potential for the openers to get on top of the new ball.
While Cook and Ian Bell consistently made starts, Australia's Aaron Finch showed just how effective a destructive opener can be in this form of the game with his blistering centuries in Melbourne and Perth.
If and when Pietersen is brought back into the fold, the temptation to restore him to the top of the order will be strong.
"Every team would love to have an opener who can smash it for six, but if they are not used to doing it against the new ball, you are just gifting a wicket away," says Hollioake.
"Wherever he bats, Pietersen is always crucial. He is the guy who can do something special and win you the game off his own bat. He just needs to be playing and scoring runs in the lead-up to that World Cup."

Determine the death men
England's disappointing series reached its nadir in the second one-dayer in Brisbane when they somehow managed to find a new way to lose a match from a position of total authority.
Australia's victory was founded on an explosive batting display from James Faulkner, but he was given considerable assistance by some dreadful England bowling in the closing stages of the game as Ben Stokes and Tim Bresnan both failed to come up with the variety of deliveries that can suffocate a batsman in a run chase.
Stokes, who was hit for five sixes by Faulkner in the latter stages in Brisbane, improved drastically in the final two matches after stating his desire to be a death bowler, while Sussex's Chris Jordan rounded off a promising series by striking twice in his final over in Adelaide.
"You want to get your death bowlers nailed down now, get them used to doing that job so that come the World Cup they have all that experience under their belt," says Hollioake.
"It's one of the hardest skills in the game because there are so many different shots that batsmen play these days.
"They play ramp shots, sweeps and reverse sweeps, they step back and take it on the half-volley or come out of their crease and hit it on the full.
"You need to follow the batsman whatever he does - if he comes down the wicket, bowl a bit short, if he goes back, get it fuller. It's certainly not a case of just being able to bowl good yorkers - that theory is 20 years old."
Believe in spin
One of the biggest points of contrast between Cook and Clarke in the one-day series was their attitude towards spin bowlers.
Over the course of the series, Australian spinners sent down 68 overs to England's 32 and were responsible for the three best economy rates on their team.
Even when off-spinner James Tredwell was selected, Cook never seemed to fully trust him, denying him his full quota of 10 overs in any of his three matches and withdrawing him from the attack in Perth after a single five-over spell.
Between now and their World Cup opener - against Australia on 14 February 2015 - England must surely identify a spinner who can be trusted to rattle through 10 tidy overs in the middle phase of the innings.
"Out here in Australia, you are always looking to the seam bowlers to take the bulk of the wickets but you do need one or two guys who can run in and whizz through a few overs of spin," adds Hollioake.
"This is probably the one area I don't mind England trying a few people out because they don't know who their best spinner is following Graeme Swann's retirement.
"Overall, they are low on confidence at the moment, but if they can get their best players back and start enjoying their cricket again I think they have the ability to do well next year."