Ashes: James Anderson examines England's disastrous defence
Last updated on .From the section Cricket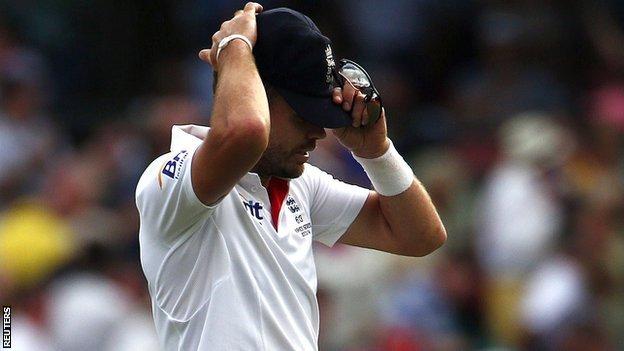 He is England's most experienced bowler in the current squad and the second-highest Test wicket-taker in his country's history.
But James Anderson endured a chastening Ashes series down under, taking just 14 wickets as his side were whitewashed 5-0 by Australia.
As part of BBC Radio 5 live's Not Just Cricket programme, the 31-year-old Lancastrian, who has taken 343 wickets in 92 Tests, deconstructed England's humiliating defeat.
Failing to turn the tide
The tourists fielded 18 players during the Ashes, a record for England in an away Test series.
Anderson said: "It did keep getting worse. The harder we tried to put things right, the worse things got.
"The team was quite disturbed with Jonathan Trott going home and Graeme Swann retiring, plus we played a different team in each Test. A lot of changes were made.
"The frustrating thing is the effort was there. It felt like the harder we tried, the better Australia got, while we were going in the opposite direction."
'Get ready for a broken arm'
During the first Test, Australia captain Michael Clarke was fined 20% of his match fee after sledging Anderson, who was batting at the time.
"I didn't actually hear it," Anderson said, "but I dish it out so I kind of expect it. There was no more sledging in that series than there has been in previous series I've played in. It's part of the game."
Trott leaves the tour

Jonathan Trott, England's stalwart at number three, left the tour after the first Test because of a long-standing stress-related condition.
Anderson said: "Trotty was a huge loss to us, because he's been such a big part of our success over the last few years. We've relied heavily on him for runs and he delivered, more often than not.
"It did hit us hard when he left, but when something like that happens it puts things into perspective. He's got issues that are bigger than the game and, more than anything, as his mates, we want to see him get the help he needs and get better. The cricket takes a back seat."
Saying so-long to Swann
In the middle of the series, spinner Graeme Swann announced his retirement. He took 255 wickets in 60 Test matches.
"He will be hard to replace," said Anderson. "A lot of the wickets I've taken over the last five or six years have been thanks to Swanny, bowling in tandem with him. Him doing his job at one end has made it a lot easier for guys at the other end. Good luck to anyone who has to try and fill his shoes. He's been brilliant."
England's erratic bowling
Australia's batsmen capitalised on some poor bowling to score 10 centuries to England's one during the series.
Anderson said: "We had plans. We knew the ball wouldn't swing for a huge amount of time. The key to bowling well in Australia is to bowl accurately and to be as patient as you possibly can. That was basically our plan, but we didn't execute it well enough. We bowled well in patches.
"The biggest problem for us was that we were all bowling again after having a 40 or 50-over break. We were still trying to recover from bowling in the first innings.
"Then their batsmen can come out and play freely because they've got a huge lead. There's no pressure on them and you're on a hiding to nothing, really."
Keeping faith with KP
Former England spinner Phil Tufnell was one of several pundits to criticise batsman Kevin Pietersen after the series.
Anderson responded: "KP is an unbelievably talented player. He's at his best when he takes the attack to the opposition.
"This time it didn't come off and it will frustrate some people - it sometimes frustrates us in the dressing room - but when he scores a 150 that wins us the game, then he's the best thing since sliced bread."
Keep calm, carry on with Cook
Alastair Cook's form was a significant factor in England's struggles, and he was accused of being too conservative as a captain.
"His captaincy's taken a lot of stick, but the players weren't performing," said Anderson. "It's not his fault we lost 5-0.
"What you need as captain, particularly in a big series like that, is for your senior players to stand up and help you out with performances. None of the senior players, none of the players, did that. So it puts the captain in a difficult position when the guys you rely on for wickets and runs are not producing.
"What will be good for him now is getting away, going to his farm. His wife's due to give birth in the next couple of months. Closer to the summer, he can then analyse his batting and his captaincy."
Singing Stokes's praises
The performances of Durham all-rounder Ben Stokes were a rare bright spot for England. He took 15 wickets in the series, one more than Anderson, and scored 279 runs.
Anderson said: "Stokes is an unbelievably talented player. It was not just his talent that was on show in Australia, but also his mental strength and toughness. Getting a century like he did in his second Test at Perth, facing some very hostile bowling... it shows a lot about someone's character.
"He's going to go on to be a huge player for us, with his bowling as well. He's got all the natural skill."
Flowering under Flower again
Despite the defeat, team director Andy Flower wants to stay in charge.
"When Andy took over the team in 2009, we were in a bit of a mess," said Anderson. "In one of his first games, we got bowled out for 51 in Jamaica. He's done an unbelievable job and got us to number one in the world. There's no better person to try and get us out of this trough. It's going to be a big effort from everyone, led by Cookie and Flower.
"It's almost a fresh sheet of paper. We've got an Ashes in 2015, 18 months away. Now's as good a time as any to try and get a solid group of people together to perform in that series."
And Anderson's future...

He says he would love to be a part of the rebuilding process.
"It's my job to look at my performance in the winter," he said. "I know it wasn't good enough. I have to go away and figure out why that was and how I'm going to improve over the next few months.
"The exciting thing is that I can go back to Lancashire - a whole pre-season to look forward to - and just try to take as many wickets as I can."
Listen again to BBC Radio 5 live's Not Just Cricket programme.