Guernsey captain Jamie Nussbaumer hails 'culture change'
Last updated on .From the section Cricket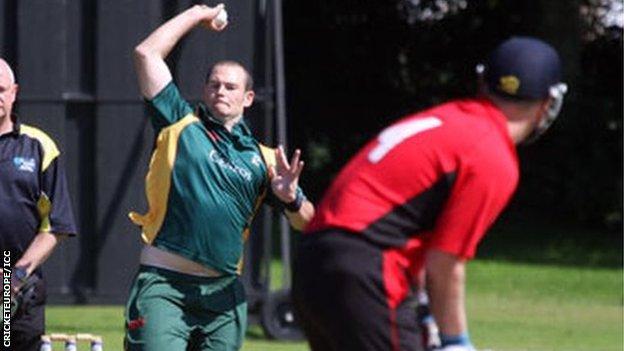 Guernsey captain Jamie Nussbaumer says there has been a "culture change" among the island's top players since Nic Pothas arrived as director of cricket.
Pothas, a former South Africa international, has transformed the squad in terms of personnel, but also with a renewed focus on fitness.
"Before there might be one or two in the gym and the rest could get away with it," he told BBC Guernsey.
"Now there's nine or 10 guys and that puts pressure on everyone."
Guernsey are preparing for Division Five of the World Cricket League, which takes place in Malaysia in March, and Nussbaumer said the new approach had filtered through the whole squad.
"Maybe there were some who don't want to do it, but there's pressure on them to get involved," Nussbaumer added.
"Obviously they don't want to let anyone down and even if they think they're fit enough, they know in their heart that they need to be doing it too.
"With Nic coming over, it definitely makes a difference having a full-time person here.
"Andy Perkins has come in as strength and conditioning coach and that's made a massive impact. There's definitely been a culture change.
"The guys have been faultless in the work ethic they've put in.
"Literally since the season ended we've all been in the gym pretty much non-stop. So in terms of gym work and fitness, the guys have really bought into it.
"In previous regimes it's been a case of going in the gym for six weeks before, whereas this has been four or five months and hopefully we'll continue like this as well.
"I've been around the squad for the last nine or 10 years and within the last 18 months we've lost seven or eight of our most senior guys all at once and it's been a bit sad.
"It's definitely a changing of the guard but with Nic Pothas coming on board and me taking the captaincy and this younger squad, it's a clean slate."
Nussbaumer said there was no getting around the fact his side were disadvantaged - like Channel Islands rivals Jersey - by arriving in Malaysia during their off-season.
"It's a major disadvantage, a lot of teams there will be in the middle of their season," he said.
"You can do as much as you like against a bowling machine in the nets but realistically it's very different when you get out in the middle, and that's why we're going out there a week early to get in the heart and see what the pitches are like and play some warm-up games, which is vital."
Guernsey will take on Jersey, hosts Malaysia, Nigeria, Tanzania, Jersey and Cayman Islands, with the top two gaining promotion to Division Four.