Cricket World Cup place 'massive' for Scotland's funding
Last updated on .From the section Cricket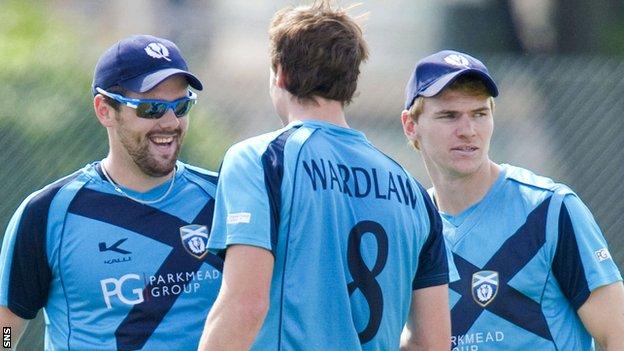 Qualification for the World Cup has secured vital funding for Cricket Scotland, according to chief executive Roddy Smith.
Scotland secured a place at next year's finals in Australia and New Zealand by in the qualifying event.
"It's absolutely fantastic news," Smith told BBC Radio Scotland's John Beattie programme.
"We couldn't have sustained seven full-time cricketers which we have based in Scotland."
The Scots opened their qualifying campaign in New Zealand with but followed that with six consecutive wins.
"It's been a tense couple of weeks but the guys have played unbelievably well," reflected Smith. "They've won six must-win games in a row and they've qualified.
"Their mindset must be very strong. This group of players came into this tournament with huge things at stake.
"And, especially after losing the first game, they really had six do or die must-win games. To win those, most of them very convincingly, just proves these guys have really dug deep together, they've worked hard as a unit and they've shown a great deal of mental strength to win all their games.
"The players have proved themselves over the last few weeks and certainly can look forward with a great deal more certainty than a lot of people in the organisation would have had if they hadn't qualified.
"It just shows that the players have performed exceptionally under very extreme circumstances."
Having missed out on this year's World Twenty20 in Bangladesh, a World Cup place has also ensured playing programmes for Scotland.
"We take part in lots of different ICC tournaments and the opportunity to take part in those would've been reduced if we hadn't qualified for this event," added Smith.
"The ICC are quite strict on how much money they give to certain countries and it's all dependent on your World Cup qualification and your ranking in the world game.
"If we hadn't qualified, we would've dropped down in the world rankings and with that would've come a fairly substantial cut in funding and also potentially a cut in playing programmes.
"So, it's to given us some security, which is great for everyone.
"If we hadn't qualified there would have been some ramifications across everything in Cricket Scotland because we would've undoubtedly lost some money."