Andy Flower was a fine England coach, but change is needed

By Jonathan Agnew
BBC cricket correspondent
Last updated on .From the section Cricket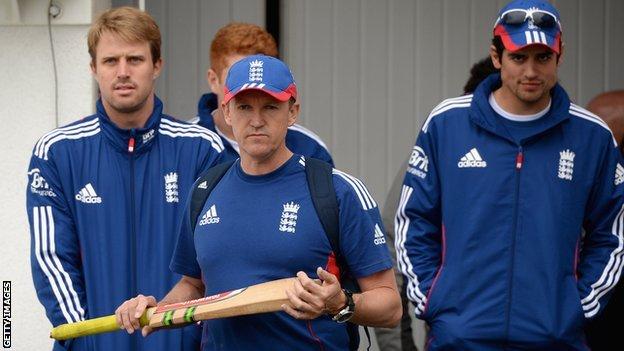 When you consider England's spectacular decline during the past three months, it becomes clear that somebody had to be held responsible.
I interviewed team director Andy Flower after the final defeat in the fifth Test in Sydney and he ended weeks of speculation about his future by making it clear that he wanted to stay on and rebuild the team.
But on Thursday, when Flower met England cricket's new managing director Paul Downton, it was agreed that one man should be in charge of all formats.
With Flower having given up the limited-overs reins in November 2012, his departure was therefore inevitable.
It is even more understandable given that the only other real option for change was to replace captain Alastair Cook.
But there are very few, perhaps even no candidates, to replace him as skipper.
Matt Prior, the vice-captain, was left out for the final two Ashes Tests and Stuart Broad, the Twenty20 skipper, is too much of a loose cannon to be considered for the top job just yet.
Although Flower departs after a disastrous tour, it should not be forgotten that he is a very fine coach and a man who has been brilliant for English cricket.
Fans of a certain age will never have known a successful England team, yet for five years the Flower era was one of consistent achievement.
Taking over in 2009, he immediately regained the Ashes and twice successfully defended them, the first of which was that wonderful tour of 2010-11, when England won in Australia for the first time in 24 years.
On top of that was the 2010 World Twenty20 - England's first and only global limited-overs trophy - the rise to the top of the world Test rankings in 2011 and the 2012 series victory in India, the first success there for 27 years.
Flower is a man I like enormously, and not only because he is excellent to work with. On that tour of Australia in 2010-11, I spent many evenings in his company, having a few drinks in a quiet hotel bar.
I got to know what makes him tick, his belief that players should take responsibility for their cricket. He was always very challenging of people, even of the questions he got asked in press conferences. He chooses his words carefully and is always very well-spoken.
Yet, despite all that, as team director, he must take responsibility for the way the team is playing, even if it is a shame that it has all ended in the aftermath of a chaotic tour.
I'm sure it will be lost on few that Flower inherited the job after Kevin Pietersen's row with then coach Peter Moores.
Now Flower is leaving with his apparently frosty relationship with Pietersen laid bare for all.
There were claims the 45-year-old issued a "him or me" ultimatum regarding Pietersen - reports Flower denied - but the batsman may welcome Flower's exit.
Pietersen cannot remain in the England team, however, if he continues to play like he did in Australia.
Is Flower to blame for Pietersen's batting? Without being in the dressing room, it is impossible for us to comment on that or the extent of any rift between them.
Getting the best out of Pietersen is now the problem of Downton and Flower's successor, who may be appointed as quickly as in the next fortnight.
Limited-overs coach Ashley Giles is one likely candidate, although his case is hampered by England's poor one-day and Twenty20 form.
In his defence, he has hardly ever been given a first-choice squad to pick from, but I do not feel he has the experience for the top job yet.
Another name being mentioned is Gary Kirsten, who has had great success with India and his native South Africa.
However, I have seen comments from him saying that he wants to stay at home for 70% of his time, which would be impossible were he to become England coach.
There will be no shortage of interest in the vacancy, though. In terms of profile, resources, prestige and wages, England coach is a plum job.
Whoever takes it will have some act to follow.