Andy Flower: England need a fresh start under a new coach
Last updated on .From the section Cricket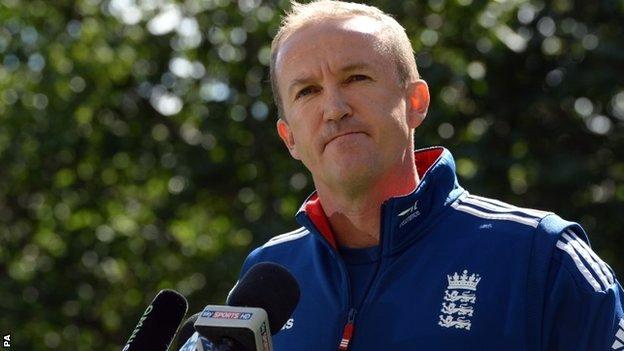 Andy Flower decided to stand down as England coach because he does not feel he is the right man to lead the side's recovery from a disastrous Ashes tour.
"To start with a clean slate and begin to instil methods to ensure England [are] moving in the right direction will be incredibly exciting," he said.
"But I do not feel like I am in a position to undertake that challenge."
Flower, who led England to three Ashes wins and the World Twenty20 in 2010, informed the England & Wales Cricket Board of his decision following a meeting on Thursday with new managing director Paul Downton.
He believes the next coach should be given control over all three England sides, a position Flower held before handing over responsibility for the one-day and Twenty20 sides in November 2012.
Former spinner Giles, who will lead England on their limited-overs tour of West Indies in February and March, is favourite to take the new role.
Ex-South Africa and India coach Gary Kirsten is thought to be another candidate for the job.
A decision is expected within two weeks.
Flower said: "Following the recent very disappointing Ashes defeat it is clear to me that this is now the time for England cricket, led by Alastair Cook, to rebuild with a new set of values and goals.
"In order for England cricket to make significant progress I believe that the team director, together with the respective captains, needs to be responsible across all formats in order to positively influence the rebuilding process.
"This will ensure complete clarity and continuity across the squads. Having stepped aside from the limited-overs squads 14 months ago, that is not something I am able to do and I do not therefore feel that starting the process would be in the best interests of all involved at what is a pivotal time for England cricket.
"This has been a very difficult decision to make and I remain committed to England cricket."
Flower's team completed a third consecutive Ashes series victory with a 3-0 home win last summer but despite arriving down under as favourites this winter, they were heavily beaten in all five Tests and have now slipped to fourth in the Test rankings.
Following the final Test in Sydney, Flower said it was the "end of an era" for England, although he later denied issuing an ultimatum that he would leave unless Pietersen was dropped.
Downton said he was in the "advanced stages" of talks with Flower over a new role at the ECB, which is likely to involve coaching England's young plays at the Academy in Loughborough.
"Andy has been the most successful coach in England's history and we at the ECB are very disappointed to see him leave the role as team director.
"We respect his decision and the reasons for it but we are keen to keep Andy's experience and outstanding knowledge within the ECB."
Ex-Zimbabwe wicketkeeper/batsman Flower took over in difficult circumstances nearly four years ago after a rift between coach Peter Moores and then-captain Kevin Pietersen led to both leaving their jobs on the same day.
Having seen England bowled out for 51 in Jamaica in his first match, Flower then moulded his team into one of the most polished and professional units in international cricket.
After winning the Ashes back later that year, and retaining them in the 2010-11 series down under, he steered England to number one in the world Test rankings in August 2011 following a 4-0 home victory over India.
Flower also improved England's performances in the shorter forms of the game, coaching them to their first global limited-overs success at the 2010 Twenty20 World Cup, although the team slumped at the 2011 one-day World Cup.
After handing over one-day and Twenty20 duties to Giles, Flower remained in charge of the Test side, overseeing their first series win in India since 1984.
Flower had two stints as Zimbabwe captain during a decade-long international playing career in which he established himself as a world-class batsman and wicketkeeper, scoring 12 centuries, and averaging 51.54 in 63 Tests.
After quitting the international arena, Flower dedicated himself to county cricket and Essex, where he played for five seasons between 2002 and 2006.