Giles Clarke: Ashley Giles 'strong candidate' as new sole coach
Last updated on .From the section Cricket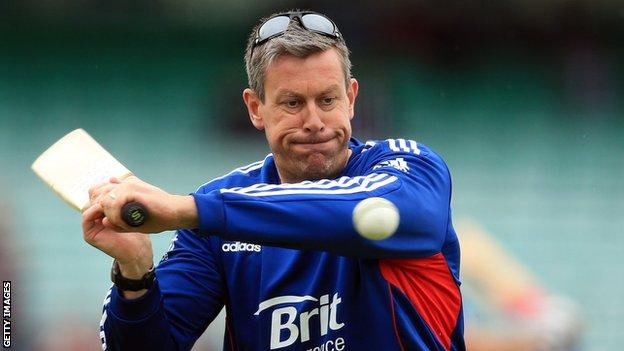 England will return to having one coach in charge of all international cricket formats with limited-overs coach Ashley Giles a "strong candidate" for the job.
Flower split coaching duties with Giles in 2012 and focused on the Test side.
"We've learned with the dividing roles and think it's better to bring them together," Clarke said.
"I believe that is where [ECB managing director] Paul Downton is at the moment. Unless he changes his mind, I think that's where we see it going."
While acknowledging that former Warwickshire director of cricket and England spinner Giles, 40, would be a leading contender to take on the additional responsibilities of preparing the Test side, Clarke said others would also be considered.
Nottinghamshire director of cricket Mick Newell has expressed his desire to replace Flower, while former England captain Michael Vaughan believes South African Gary Kirsten should be considered.
"We would agree [Giles] is a strong candidate," Clarke said. "He's a valued employee of the ECB, a man of great integrity and ability.
"But Paul will conduct a proper process and other candidates may emerge."
Clarke confirmed that Flower left his position as coach because of a desire to have a single coach for England's Test, one-day international and Twenty20 sides, rather than as a direct result of England's 5-0 Ashes defeat in Australia.
He also dismissed suggestions that Flower's departure was due to any rift with England batsman Kevin Pietersen.
The former coach was reported to have told the England authorities in January that he would resign if Pietersen remained in the England set-up, though later denied ever making such an ultimatum.
Clarke said: "This is Andy's decision. He was concerned that because there are players who go across formats it's important to have the same culture.
"He was not going to carry on doing it if he thinks there are issues. Andy had concerns about not having a full integrated team and manager."
Clarke also said Downton would speak to Flower, 45, about remaining involved with the ECB in a senior position.
"Andy has a great deal to give English cricket," Clarke added. There are some major roles and I'm confident he'll remain with us.
"That will emerge once Paul and Andy have completed their discussions."