Leicestershire blame cut in ECB payments for £66,000 losses
Last updated on .From the section Cricket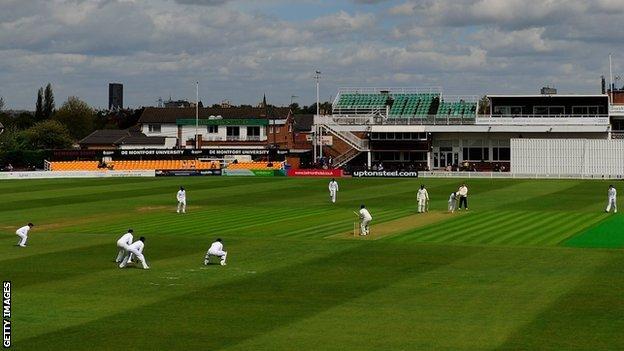 Leicestershire have announced losses of more than £66,000, but it is a big improvement on the previous 12 months.
Despite an increase in match-day income and generating a surplus from catering, they lost a higher than expected £66,486 for the year to 30 September.
The club have blamed the England and Wales Cricket Board's decision to cut fee payments for the deficit.
However, it compared to a loss of over £250,000 in 2012, following a profit of nearly £300,000 the previous year.
"Whilst we are disappointed to announce a loss we had budgeted for this eventuality," chief executive Mike Siddall told the club website.
"The club increased its net commercial income by 10% in a difficult market and managed to keep the increase in commercial costs down to 3.5% with total expenditure, excluding catering, showing no increase."
Siddall hopes that changes to the fixtures schedule for the new season, with the the majority of County Championship matches beginning on Sundays instead of Wednesdays and hosting India in a three-day game in June, will trigger a further increase in ticket sales.
"Match receipts showed a healthy increase of 24% and we hope to continue this with seven home NatWest T20 Blast games, five of them on Friday nights," he said.
Leicestershire had hoped that their ground would be chosen as the site for a new sports arena, which would become the home for the city's Riders basketball team, but Siddall admitted it appears likely to be built elsewhere.
The club is, however, set to assume unrestricted ownership of Grace Road with the lifting of a covenant held by the city council and is pressing ahead with an application for planning permission for 14 apartments to be built on the Milligan Road side of the ground.
"Indications are that the Community Arena development proposed for Grace Road is unlikely to go ahead which is disappointing, given the amount of time and work the club has put into the project over the last 17 months," added Siddall.
"The apartment development is important to the future sustainability of the club going forward and will bring much needed off-field income into the club."