Derbyshire: Sadler, Guy, Patel & Botha added to coaching staff
Last updated on .From the section Cricket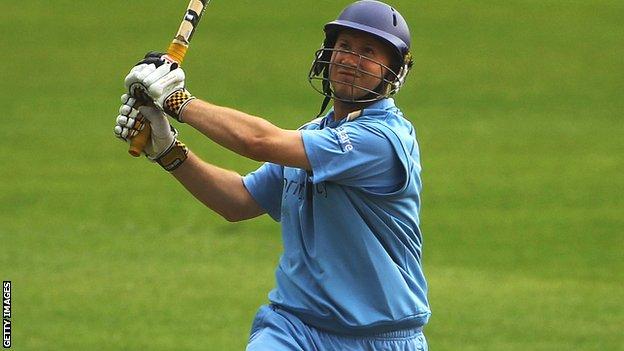 John Sadler, Simon Guy, Cookie Patel and Ant Botha have been added to Derbyshire's coaching staff.
Existing coaches Stephen Stubbings and AJ Harris will stay with the club.
Elite cricket performance director Graeme Welch said: "The new elite performance coaching structure shows our long-term ambition.
"We're delighted with the calibre of coaches. Our management and support team now boasts a combined total of way over 700 first-class appearances."
Derbyshire say the new structure "ensures an elite performance coaching resource in each of the key disciplines; batting, seam bowling, spin bowling, fielding and wicketkeeping".
Welch will lead on seam bowling and will be supported by Harris, who will also have a special focus on academy development.
Sadler, who has his own Yorkshire-based coaching academy, will be supported by Stubbings on the batting front.
Botha returns to the UK from a coaching position in Australia and will work with Derbyshire's spin-bowling group, as well as assisting with coaching the batsmen.
Patel, who is the ECB's lead women's fielding coach, will undertake the role of specialist fielding coach for Derbyshire, while Guy will work as a specialist wicketkeeping coach.
Academy director Howard Dytham, lead physiotherapist James Pipe and strength and conditioning coach Jamie Tallent will remain in their roles.
"Every member of the elite coaching team has earned their place," added Welch. "They're all leaders within their disciplines and will bring great knowledge and expertise to the team.
"As well as welcoming four top-class new coaches, it's also been great to see the progress of Steve Stubbings and AJ Harris since I've been here.
"They've earned their positions on merit, against strong applicants, and are a valuable part of what's now a well-resourced coaching team.
"It will give our players, from grassroots right through to the professional game, the best possible preparation and support."