Worcestershire announce £59,833 pre-tax profit
Last updated on .From the section Cricket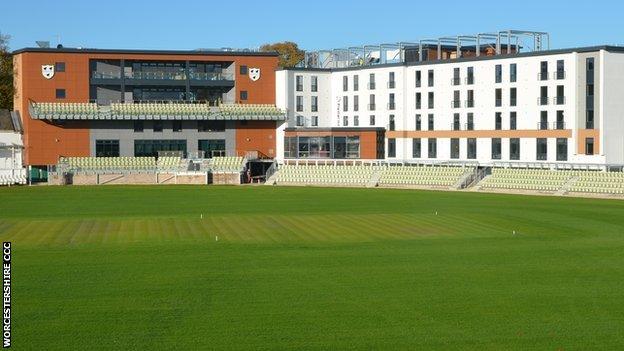 Worcestershire have announced a pre-tax profit of £59,833, following another weather-hit year at New Road.
"We were put three months behind," David Leatherdale, the county's chief executive, said.
"We had five separate floods and were under water for five weeks."
He told BBC Hereford & Worcester: "That led to the contractor not completing some of the things we wanted, which meant us not being ready for the Australia game and our five home Twenty20 matches.
"Just in lost ticket sales in not having the extra seating available for the Australia game, that cost us £80,000-100,000.
"And not having three floors and extra bars available for things on the executive side cost another £100-150,000.
"It adds up quickly. That's a quarter of a million. Then you add on the Twenty20 as well.
"All budgeted revenue that we could not do anything about.
"Some of it is lost permanently, some we might still be able to get back."
On the plus side, however, Worcestershire now have the chance to catch up on those lost profits, now that the redevelopment is open, with its new conference and banqueting facilities, constructed in conjunction with a 120-bed hotel next door.
"Membership revenue has increased through having new facilities," added Leatherdale. "We sold that out in about a month to a new and diverse audience.
"The budgets are higher now for next year but now we're up and running, we're hoping we can achieve those.
"When all is said and done, we have shown a surplus for the fourth consecutive year despite considerable disruption during the construction of the now completed "View" development scheme.
"And, with the opening of the hotel expecting in excess of 35,000 visitors per year, it is fair to say we now have facilities to admire which will be of real benefit to members, spectators and the city alike.
"This can only help the club achieve our aim of being a truly 365-day a year business generating new and sustainable cricket and non-cricket revenue which can be reinvested back in the team and the club over the years to come."
The only downside is the current level of flooding that has so far left New Road under water since Christmas Day.
"Ironically, we flooded on Christmas Day last year and have done exactly the same year, so I hope that's not turning into a pattern."