Preston Mommsen backs Craig Wright for Scotland coach role
Last updated on .From the section Cricket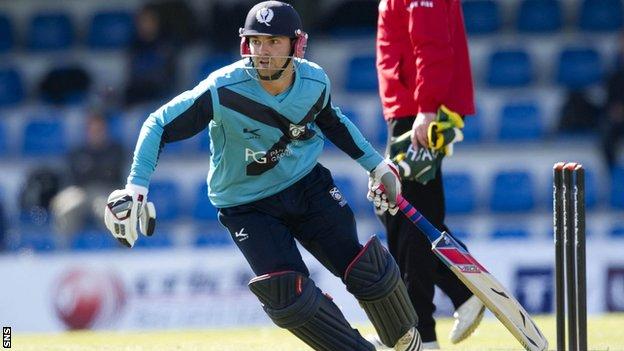 Scotland's Preston Mommsen believes interim coach Craig Wright is "strong candidate" to take on the role full-time after clinching a World Cup place.
and sealed a place in next year's finals in Australia and New Zealand.
Wright and Paul Collingwood were put in charge of Scotland following Peter Steindl's departure.
"Craig has delivered in the short time that he's been there," Mommsen said.
"He's done a fantastic job with us over in New Zealand and he'll certainly put his name forward for the recruitment process.
"It's a great gig. Obviously, it's a very attractive position right now, to be in the 2015 World Cup. Certainly he'll be a strong candidate."
By beating United Arab Emirates at the weekend, Scotland secured a place in England's World Cup group, and will also meet New Zealand, Australia, Sri Lanka Bangladesh and Afghanistan.
"We've had a look at the fixture list and we're very excited for next year," explained Mommsen, 26, who scored an impressive 520 runs in eight matches at the tournament.
"It's huge for us, it's huge for cricket in Scotland and the future of cricket in Scotland. We're absolutely delighted to have gone over there and done the job.
"We've got England soon and we've got them again in the World Cup so hopefully we can get a good taste of them and put a bit of pressure on them for the World Cup.
"It's a very good time to be playing them. We're in a good place as a team, as a squad and they're not in such a good place so it's probably perfect timing for us."
Team-mate Calum MacLeod, who averaged over 50 for the tournament, thinks it is time for Scotland to start challenging the world's top nations.
"Over the last few years we've seen the associate nations push some of the top teams," said the 25-year-old.
"So, I think it's time for Scotland to step up and join our top associates and start pushing these top teams to really compete against them."