Michael Yardy: Sussex all-rounder eyes new era of success
Last updated on .From the section Cricket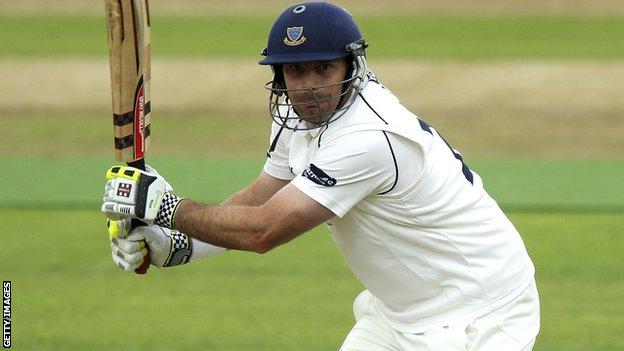 Sussex all-rounder Michael Yardy has set his sights on winning silverware after signing a new two-year deal.
The club won three County Championship titles in the 2000s, but have not lifted a major trophy since 2009.
"The way the club has gone in the last 15 years, we have always had a stream of trophies," Yardy told BBC Sussex.
"That has been unbelievable, but it has got to the stage where we haven't won anything for a few years. It would be nice to get something in the cabinet."
Sussex were one of the most successful sides of the first decade of the new millennium, with a side including spinner Mushtaq Ahmed winning the county title in 2003, 2006 and 2007.
The club also won four one-day trophies in that time, including the 2009 Twenty20 Cup.
The Hove-based side finished third in Championship Division One last season, but bowed out of both limited-overs competitions at the group stage.
"We took our time to get past that stage of the Mushtaq Ahmed era and trying to work out another formula of playing," 33-year-old Yardy said.
"We have started to do that now and last year was certainly the most successful in four-day cricket. We fell away a little bit in the end, but I thought we had a good chance of winning the Championship.
"For the last four or five years we have played well in the Twenty20 and one-day competition. Last year was a bit disastrous and disappointing."
Yardy, who was captain of Sussex between 2009 and 2012, says the club will need every individual to perform to challenge for trophies this summer, especially their batting line-up.
"I just think it is a case of all of us taking responsibility in big situations," he said.
"When we do get into a sticky situation we need to think big and try and set the platform to get 400 or 450. That is how we are going to be successful in four-day cricket.
"We are a very good team on pitches that offer a bit as it brings our bowlers into the game. As batsmen, when the pitches are flat we need to really cash in and then we will be right up there in the championship."
Yardy made his first-team debut for Sussex in 1999 and his new deal will keep him at the club until the end of the 2015 campaign.
"I do feel fortunate that there has never been a reason for me to leave Sussex," he said.
"As a young player I always felt that when I performed to a certain level, I always got opportunities.
"If I wasn't at that level I didn't get them but I never felt too aggrieved by that. It was a case of working hard.
"We have won a considerable amount of silverware at Sussex and I have been very fortunate with that and have had the opportunity to play for England and win silverware in the World T20 with them."