Jersey's World Cricket League hopes 'lifted' after Guernsey win
Last updated on .From the section Cricket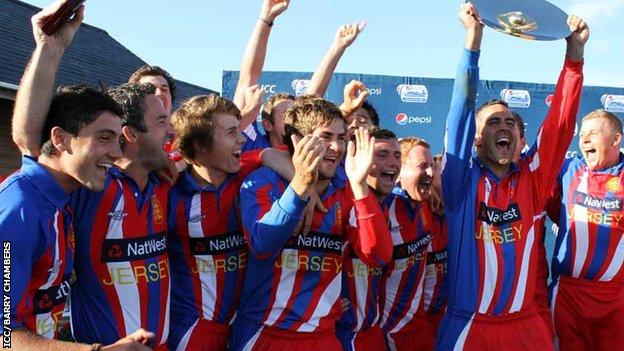 Jersey Cricket Board chief executive Chris Minty says their recent victory over Guernsey has helped raise hopes of winning promotion back to World Cricket League Division Four.
They next meet in March's Division Five tournament in Malaysia.
"We are in a very good place at the moment and want to keep it going," Minty told BBC Radio Jersey.
"We have been in Division Five before, so we are looking to go back to Four and stay there - that is the aim."
Jersey won promotion last year as Division Six champions, and will now face Malaysia, Nigeria, Tanzania, the Cayman Islands, as well as Guernsey.
The Cayman Islands are the only team that they have never met in the past.
"We beat Malaysia out there last time, we have beaten Nigeria twice now, we lost to Tanzania a few years ago and, of course, we have recently beaten Guernsey," said Minty.
A core group of the team that claimed the title in 2013 was named in Neil MacRae's squad for the tournament earlier this week, with Peter Gough again leading the side as captain.
Minty said Dean Morrison's inclusion, with the Australian-born batsman only cleared to play in December after previously falling short of the required days needed to represent the island, will help the squad jell.
"It's a big boost - he is a good player with experience that we can lean on and he is good with the younger players as well," added Minty.