Brian Lara to play with Sachin Tendulkar in Lord's bicentenary
Last updated on .From the section Cricket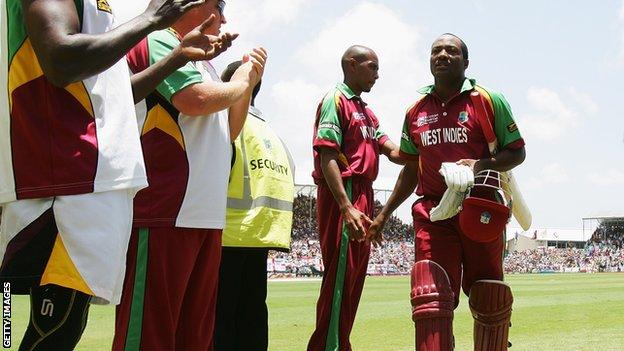 West Indies legend Brian Lara has been added to the line-up for the Marylebone Cricket Club v Rest of the World bicentenary match at Lord's on 5 July.
Lara will play alongside MCC captain and fellow all-time batting great Sachin Tendulkar for the 50-over match.
"It will be fantastic to play at such an iconic place on such a special occasion," said Lara, 45.
West Indies bowler Tino Best is the final name added to a Rest of the World side captained by spinner Shane Warne.
The Australia legend, who took 19 wickets in four Tests at Lord's, will be joined by former England batsman Kevin Petersen, along with Sri Lanka's Muttiah Muralitharan and Pakistan's Shahid Afridi in the Rest of the World XI.
Aaron Finch, the world's leading Twenty20 batsman, and Australia bowler Peter Siddle join the MCC hosts.
Siddle, Nottinghamshire wicketkeeper Chris Read and Pakistan paceman Umar Gul complete the MCC side.
Gul said: "Playing at Lord's is different to playing at any other ground in the world. There is something magical about it and it will be a pleasure to come back and help MCC mark the current ground's 200th year in this match."
The hosts will be managed by club president Mike Gatting, while ex-South Africa skipper Shaun Pollock will oversee the Rest of the World.
It will be the second time Tendulkar has appeared at Lord's in such a fixture, having captained the Rest of the World side in the Diana, Princess of Wales Memorial Match in 1998.
Tendulkar, who scored a record 34,357 runs in 664 international matches, said: "Lord's is such a special place to play cricket and I am very much looking forward to helping celebrate its bicentenary by taking part in this match."
Warne, 44, said: "I'm really excited about coming back. I'm sure the match will be a lot of fun and it will be a pleasure to be part of the bicentenary celebrations of the most famous cricket ground in the world."
The current Lord's ground is the third to be named after founder Thomas Lord. The first was founded in 1787 (the same year as MCC's foundation) and the second in 1809, before Lord moved his ground to its present location in 1814.
England women's skipper Charlotte Edwards captained an MCC women's side to defeat against a Rest of the World team selected by the International Cricket Council on 19 May.
Lord's Bicentenary Match teams:
MCC: Sachin Tendulkar (Ind, capt), Saeed Ajmal (Pak), Shivnarine Chanderpaul (WI), Rahul Dravid (Ind), Aaron Finch (Aus), Umar Gul (Pak), Brian Lara (WI), Brett Lee (Aus), Chris Read (Eng, wk), Shaun Tait (Aus), Daniel Vettori (NZ).
Rest of the World: Shane Warne (Aus, capt), Shahid Afridi (Pak), Tino Best (WI), Paul Collingwood (Eng), Adam Gilchrist (Aus, wkt), Tamim Iqbal (Ban), Muttiah Muralitharan (SL), Kevin Pietersen (Eng), Virender Sehwag (Ind), Peter Siddle (Aus), Yuvraj Singh (Ind).