Kevin Pietersen disagreed with Alastair Cook but did not row
Last updated on .From the section Cricket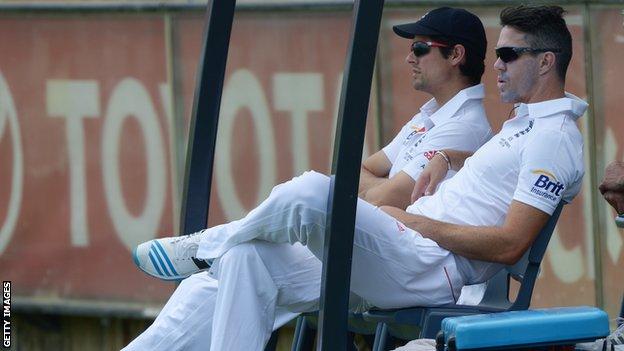 Kevin Pietersen had a disagreement with England captain Alastair Cook during the disastrous Ashes tour but there was no confrontation as has been widely reported, BBC Sport has been told.
Cook is believed to have played an influential role in the decision to end Pietersen's international career.
But reports the pair clashed before the final Test are not true.
Pietersen disagreed with Cook's idea that the team needed to improve fitness and commitment, but there was no row.
With England trailing the series 4-0 after Australia's dominant eight-wicket victory in Melbourne, Cook and his players had a team meeting.
Cook and vice-captain Matt Prior advocated the need for a change in atmosphere and suggested the younger players needed a more constructive approach from team director Andy Flower, who has since left his post.
Cook asked Pietersen for his thoughts and the 33-year-old told the captain he was fully behind him.
Pietersen later told Flower to his face what had been discussed after the batsman was invited for a chat with the Zimbabwean.
Then the day before the final Test in Sydney, Cook told the players they needed to get fitter and have more commitment.
At that point, Pietersen told Cook he disagreed with that approach, arguing it was performance levels and not fitness issues that were the reasons for England's poor displays.
Pietersen felt the younger players in particular needed a less intense environment, but his comments did not result in a row.
The same cannot be said of Prior and Piers Morgan following claims by the TV personality - an ally of Pietersen's - that the wicketkeeper openly criticised Flower during the Ashes tour.
Morgan said on Twitter that wicketkeeper Prior told team-mates that Flower was "behaving like a headmaster" and creating "a schoolboy environment".
But on his own Twitter account, Prior hit back, insisting: "There is no story here."
The spat came a day after the England & Wales Cricket Board announced that Pietersen's - a decision that has divided opinion among past and present players, as well as fans.
There have been suggestions Pietersen's behaviour might be to blame for his axing.
But former England off-spinner Graeme Swann, who announced his retirement from cricket following the 150-run defeat to Australia in Perth in December, praised Pietersen's professionalism on tour.
"He made a huge effort to improve his attitude around the dressing room," Swann wrote in Thursdays's Sun newspaper. "I saw or heard no issues with him in Australia this winter, his approach was exceptional."