Kevin Pietersen: ECB refuses to explain exit decision
Last updated on .From the section Cricket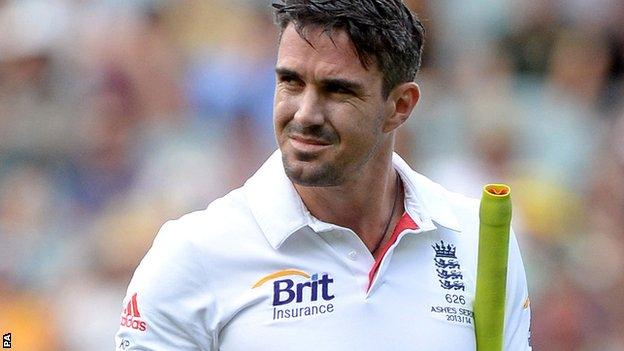 England's decision to end Kevin Pietersen's international career is still shrouded in confusion after national selector James Whitaker refused to divulge the reasons for it.
Indicating there were legal restrictions in place, Whitaker said: "We are in a precarious situation in terms of what we can say."
But he added: "I would like to say what a great and fantastic player Kevin has been for England. I wish him well for the future, but it is time to rebuild."
England announced on Tuesday that Pietersen was no longer part of their plans.
When pressed for an explanation by BBC cricket correspondent Jonathan Agnew, former Leicestershire captain Whitaker, who played one Test and two one-day games for England, said: "There are issues but at this stage I'm not at liberty to suggest in what areas."
Asked if the truth would ever come out, the 51-year-old, who recently became England's chief selector following the resignation of Geoff Miller, said: "It's tricky to say.
"All I am very optimistic about doing is to reignite the passion that people will have to play for England and to win back the country."
Lord Marland, who unsuccessfully campaigned to become chairman of the England and Wales Cricket Board in 2009, fears "the wheels are coming off" English cricket following the disastrous tour of Australia and subsequent mystery surrounding Pietersen.
"The ECB have got themselves into now is a mess because they haven't considered what the message needs to be in terms of Pietersen or in the aftermath of the series as a whole," Marland told BBC Sport.
"There have been people returning from the series, there have been people resigning during the series, there's been the coach resigning after saying 'I'm going on and taking the team forward'.
"The wheels are sort of coming off, unfortunately, quite continually."
UK Prime Minister David Cameron has also commented on Pietersen's demotion from the England team, insisting there is a "powerful argument" for keeping him in the side.
Speaking on BBC Radio Lancashire, the PM said Pietersen was a "remarkable" cricketer and expressed sympathy with the views of television presenter Piers Morgan, an ally of Pietersen.
"I am an enormous fan of Kevin Pietersen and I have had some of my most enjoyable times watching him tonking the ball all over the park," said Cameron. "His average is remarkable.
"It is not often I have a sympathy for Piers Morgan but I thought he was making quite a powerful argument this morning on my radio.
"But I will let the England selectors pick the England team, I think I had better stay out of this one."