ICC World Cricket League: Guernsey confirm youthful squad
Last updated on .From the section Cricket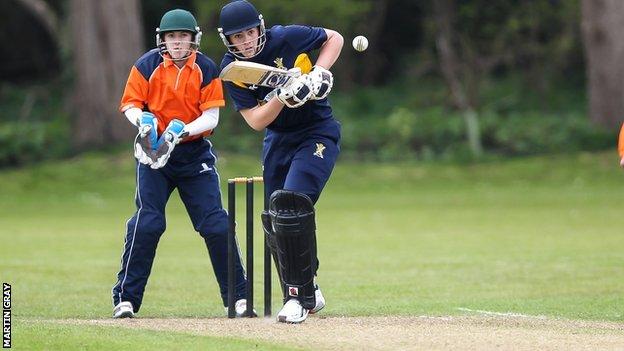 Guernsey have named 17-year-old Luke Le Tissier in their final 14-man squad for next month's ICC World Cricket League Division Five competition in Malaysia.
Le Tissier is among three teenagers to make the cut, including batsman Lucas Barker and Matt Stokes who are both 18.
Jamie Nussbaumer will captain the side which will face host Malaysia, Jersey, Nigeria, Tanzania and Cayman Islands.
"It is the most difficult selection since I have been on the island," director of cricket Nic Pothas said.
"But as difficult as it is to tell those who didn't make it, it is easy enough to justify it because they know that those who are going have worked so hard to get in."
Guernsey start their campaign in Kuala Lumpur against Cayman Islands on 6 March.
Guernsey's 14-man squad for World Cricket League Division Five: Jamie Nussbaumer (capt), Will Peatfield, Zak Damarell, Matt Stokes, Lee Savident, Tom Kimber, Max Ellis, Ben Ferbrache, Lucas Barker, Oliver Newey, James Gale, David Hooper, Luke Le Tissier, Matt Breban.