Kevin Pietersen: Clive Woodward criticises ECB decision process
Last updated on .From the section Cricket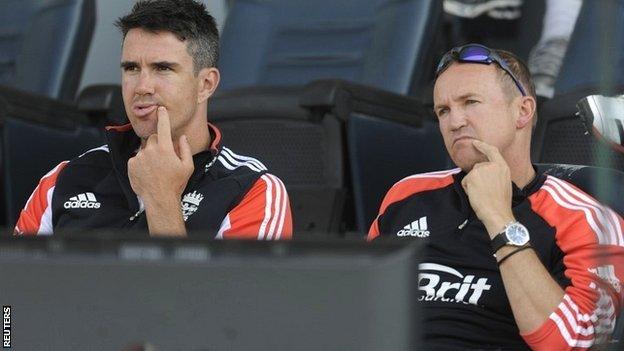 World Cup-winning rugby union coach Clive Woodward says the England cricket team's selection process is from a "bygone era" following the sacking of batsman Kevin Pietersen.
The England and Wales Cricket Board (ECB) said it wanted to create a culture where players can "trust each other".
But Woodward said the selection process was "fundamentally wrong".
Captain Alastair Cook played a key role in the decision to drop Pietersen, 33, although new ECB managing director Paul Downton had the final say on ending his central contract early.
Andy Flower quit as team director last month, having earlier denied reports that he issued the ECB with an ultimatum to choose between him or Pietersen.
Woodward, who led England to World Cup glory in 2003, told the BBC: "I just don't think Kevin Pietersen should be left out of the side when it's been decided by the captain or the coach that has just been removed and the chief executive of the cricket team.
"I think to have those people deciding his future is fundamentally wrong.
"Cricket is living in a bygone era. I'm not sure the role of the England cricket captain being so powerful and picking the team is the correct one in modern international sport.
"There's no way I would coach a national team if I thought there was going to be interference from the chief executive - even the captain of the team."
Michael Vaughan, who captained Pietersen during his time as England skipper, criticised the ECB for its decision, although former England batsman Geoffrey Boycott said: "Sometimes you have to move forward and be brave enough to make the decisions."
The ECB said it has not fully explained Pietersen's departure because of "confidentiality provisions" over ending his contract.
With England searching for a new coach, Woodward suggested Flower's replacement may want to bring Pietersen back into the squad.
"If a new coach came into the cricket team and he said, 'I don't want Kevin Pietersen', that I can understand," said Woodward.
"But I don't think he would. I think if a new coach comes in, you want your best players."