Durham: Geoff Cook concerned by champions' slim squad
Last updated on .From the section Cricket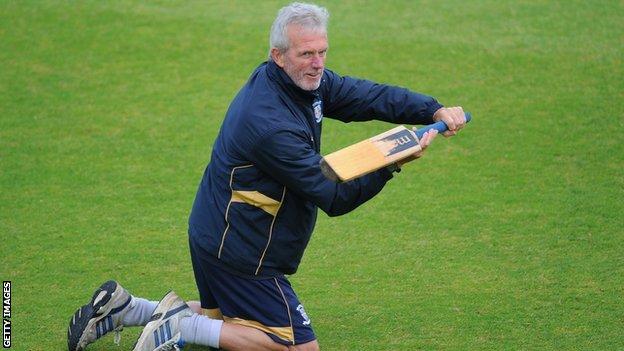 Durham director of cricket Geoff Cook admits the county champions' squad may be stretched this season.
The county won their third title in six years in 2013 but the squad's relative inexperience concerns Cook.
"The chances are England are going to claim one or two at least, and injuries you just can't predict," he told BBC Newcastle.
"We could be stretched at some stage, which is going to put a tremendous onus on the remaining senior players."
The 62-year-old's role at the club has changed following his recovery from a heart attack suffered last June and Cook is to concentrate on developing younger players in 2014.
In December, Durham confirmed second-team coach Jon Lewis, who took control of first-team affairs during Cook's illness, had been appointed first-team coach on a full-time basis.
And Cook said it had been time to move on.
"Jon Lewis, alongside captain Paul Collingwood, did a smashing job in the second part of the year, I suspect the club wanted to change direction, so it seemed an opportune time.
"The squad is slim and very young, so any future the club has got is going to depend on some pretty rapid progress from the young cricketers around the area and it's my next job to help them develop a little bit.
"I'll be around and about, but my job is to get people to try and give competition to the guys with contracts."
Financial pressure means Durham are unlikely to sign an overseas player this season.
Their chances of retaining last season's title could depend on the extent to which bowler Graham Onions, who took 66 wickets at an average of 17.68, and explosive all-rounder Ben Stokes are absent on England duty.