England's Joe Root 'has point to prove' on Yorkshire return
Last updated on .From the section Cricket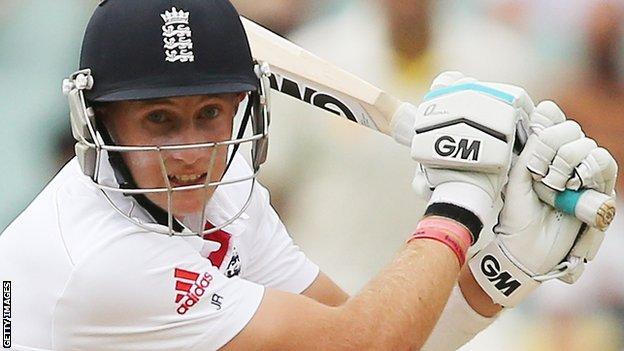 Yorkshire captain Andrew Gale says England denied batsman Joe Root a "fair run" at the top of the order.
Gale will return the 23-year-old to the head of the Yorkshire innings when he rejoins his home county.
"For me, he's an opening batter," Gale said. "That's where he bats for Yorkshire and that's where he should bat for England.
"Rooty's had success playing for Yorkshire since he was a 13-year-old opening the batting."
In his 15 tests for England, Root has played in all seven of the top spots.
He scored 180 when opening the batting in last summer's Ashes test at Lord's, but was dropped down to six for the series down under.
"I don't think he's been given a fair run in the England side opening the batting," said Gale.
The 30-year-old left-hand batsman thinks his Yorkshire team will benefit from England's defeat in Australia.
"There's going to be a lot of places up for grabs now in the England side," Gale said.
His Yorkshire team-mates Jonny Bairstow, Gary Ballance and Tim Bresnan featured alongside Joe Root in the Ashes squad.
"Those guys have got a point to prove," Gale said.
"They want the England shirt, so they're going to be giving it their all."
Meanwhile, Yorkshire director of cricket Martyn Moxon says he will not apply for the job of England coach after the departure of Andy Flower.
Moxon had previously been mentioned as a possible replacement but the former England batsman has said he will not apply for the role.
"I'm very happy here," Moxon said. "I've got plenty of work to do here and I'm looking forward to it."