Simon Jones explores other opportunities after IPL snub
Last updated on .From the section Cricket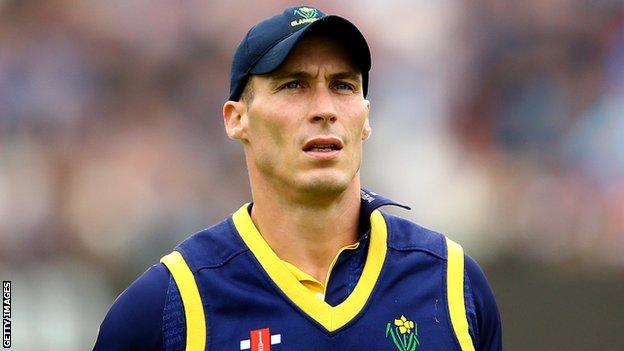 Bowler Simon Jones will explore other opportunities after failing to secure a place in the Indian Premier League
Jones, released by Glamorgan in October, was among 10 English players unsold following a two-day auction.
The 35-year-old quit first-class cricket at the end of last season and is now looking for a Twenty20 deal.
"We're keeping our options open as much as possible to see what opportunities Simon can take up," agent Ian Bird said.
"This was a year where Simon targeted trying to play as many shorter-form competitions as possible and that's still the aim.
"We've missed out on the IPL, but we're exploring opportunities in this country.
"Some of them have got coaching attached to them, which is something we're potentially looking at as well.
"The Caribbean Premier League's going to be running earlier in British Summer Time this year as opposed to when it ran last year [and] will work in his favour.
"He will be free to go into the draft, which I think is in May time, to play in that competition."
A total of 154 players were bought during the two-day auction in Bangalore and Kevin Pietersen will be the only current or former England international in the 2014 Indian Premier League.
English players Ian Bell, Ravi Bopara, Jade Dernbach, Craig Kieswetter, Luke Wright, Dimitri Mascarenhas and Rikki Clarke also failed to sell during the auction.
"Simon's naturally disappointed that he hasn't picked up a franchise," Bird told Radio Wales Sport.
"The fact that he's unattached at the moment we felt gave him a realistic opportunity of being picked up by one of the teams out there.
"Simon's disappointed, but the crumb of comfort is that he's not on his own.
"There are lots of big names that have missed out this year.
"There's definitely been a shift in the way things are being run out there this year."