Hampshire: Dale Benkenstein wants four-day form to improve
Last updated on .From the section Cricket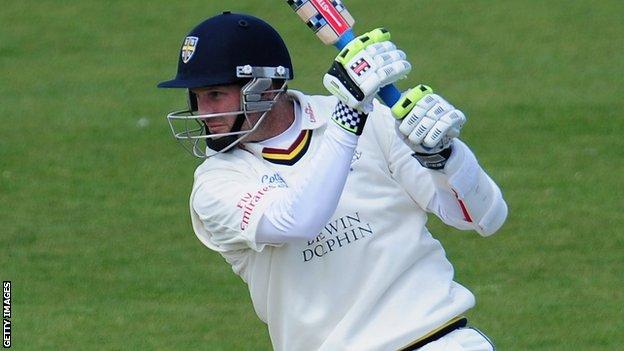 New Hampshire coach Dale Benkenstein says an improvement in the county's four-day form is one of his priorities.
The Division Two side have won both the one-day and Twenty20 trophies twice in the last five years, but have not won the County Championship since 1973.
"I feel we have the players to be a first division club," said Benkenstein.
"One challenge is to get the four-day cricket side to first division standard and the other challenge is to maintain the one-day standards."
Former South Africa one-day all-rounder Benkenstein, 39, left Durham to take up his new position with Hampshire on Thursday, having scored 9,055 first-class runs at an average of 45.96, as well as taking 44 wickets at 38.11 in nine years for last season's Championship winners.
In 2011, he scored 1,366 runs at 59.39, including four centuries and nine half-centuries and during that season he became Durham's highest first-class run-scorer, overtaking Jon Lewis's total of 7,854.
Benkenstein is hoping his experience of nine years in English cricket will help him bring more success to the Aegas Bowl.
"I think all the players can improve, that's all it takes is a bit of improvement in every player and you can turn a good team into a great team," he told BBC Radio Solent.
"I believe the ingredients are there but it's just about putting them all together and if we do that we have a great chance of promotion in 2014.
"Whether it's this year or next year though it's something we will continue to try and do.
"When I joined Durham they were in the second division but went up, you learn what it takes to go up and the standards needed to stay up.
"It's one thing going up, but you have to stay there and I have a fair idea of what will be required.
"I've had a taste of coaching in South Africa over the last six months with the Dolphins and I've loved it, that made my mind up about this being my future.
"Hampshire have been a very successful team over recent years and it's very exciting to start the second phase of my cricketing career here."