Hampshire: Giles White reveals Danny Briggs disappointment
Last updated on .From the section Cricket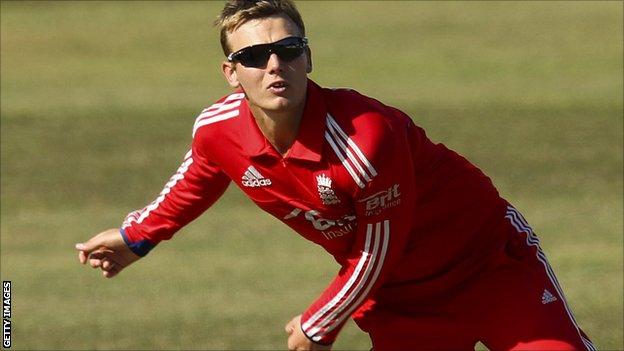 Hampshire's director of cricket Giles White says Danny Briggs is disappointed he is not part of the forthcoming England one-day and Twenty20 line-ups.
Spinner Briggs was left out of the ODI and T20 trip to the Caribbean and also missed the cut for the World T20 tournament in Bangladesh next month.
The 22-year-old was part of the one-day arm on the recent Ashes tour although he played just one T20 international.
"I think Danny is disappointed, as you would be," White told BBC Radio Solent.
"It is tough. There is a lot of change with England at the moment and they have obviously gone a different route on this occasion."
He also urged Briggs to react positively to the setback ahead of the new season.
"Danny being Danny he will be back and he will put the work in and will work himself back into that side," he said.
"I would encourage him to pragmatic about it and work is way back in."