Guernsey women's cricket 'can grow' - Nic Pothas
Last updated on .From the section Women's Cricket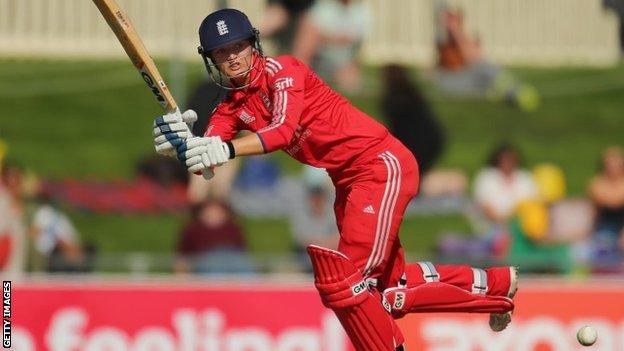 Guernsey director of cricket Nic Pothas says the women's game on the island can thrive after years in the doldrums.
Pothas said a new sponsorship deal would help drive up standards, with plans to establish a league and play against other European teams.
"Women's cricket on the island existed in the past and then fell away," Pothas told BBC Guernsey.
"It's only been going for a year but the leaps that people have taken have been brilliant."
Pothas added: "Credit has to go to [Guernsey coaches] Jason Shambrook and David Hooper for taking women's cricket under their wing.
"They've put a lot of energy and time into it and we're starting to reap the benefit.
"The sponsorship has been brilliant and opens up a huge amount of avenues. We want to have a girls' league on the island and take them away to tour around Europe - it's phenomenal."
Ashes-winning England and Sussex star Sarah Taylor has travelled to Guernsey this week to help coach promising young players.
"Sarah being here is the equivalent from having Matt Prior or Kevin Pietersen come over to coach our blokes," added Pothas, a former South Africa international.
"It's the top of the pile and the girls are just so lucky and we are so lucky at Guernsey Cricket because we have this great relationship with Sussex. It's a very active relationship and we're very grateful for it."