Sussex announce deficit of £630,000 in accounts for 2013
Last updated on .From the section Cricket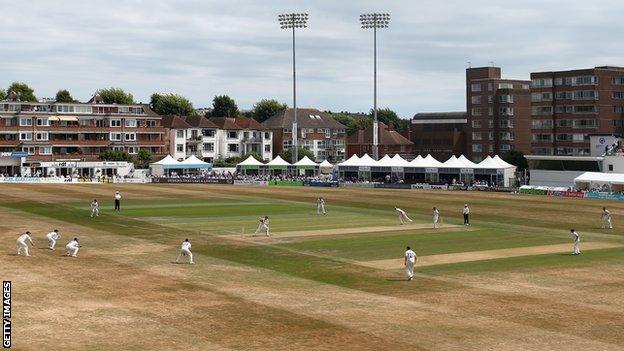 Sussex have announced a deficit of £630,000 in their accounts for the financial year to October 2013.
The Hove-based club recorded an operating loss of around £65,000, but depreciation of assets led to the larger overall figures.
"Running a profitable first-class club is exceedingly challenging," said Sussex chairman Jim May.
"The financial outlook for 2014 is very challenging. We are working extremely hard to improve the position."
The figures come after a year in which Sussex finished third in Division One of the County Championship, but suffered group-stage exits in both the FLt20 and YB40 one-day competitions.
Last year the club posted an operating surplus but an overall deficit of £325,375, which was due to depreciation.
Sussex saw operating income increase from £5.2m in the 2012 accounts to £5.5m. Operating costs increased but the deficit of £630k is largely because of the depreciation of assets at the Hove ground.
The club intend to grow income in the coming year through the implementation of a business improvement plan which will be financed through a £1m loan from the England & Wales Cricket Board.
"We spent about £10m pounds on redeveloping the ground in the last four or five years and we have now got one of the best cricket grounds in the country," May told BBC Sussex.
"What we have got to do is get a return on that investment.
"There are three real areas we are focusing on; increasing membership numbers and match attendance, looking to market our non-match facilities and improving the margin on our catering operation.
"There are a number of focused actions we have got to improve the position."