Hampshire: David Balcombe predicts promotion bid
Last updated on .From the section Cricket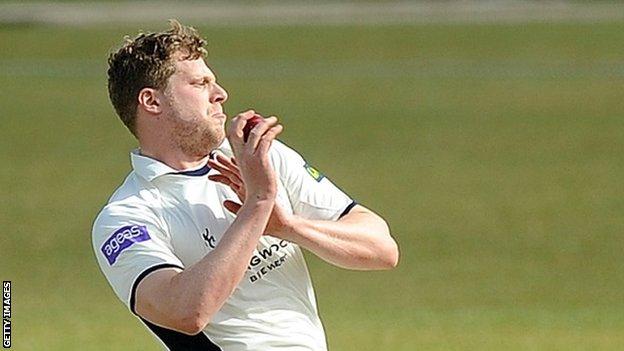 Hampshire's David Balcombe believes new competition in the bowling department will inspire a promotion bid.
Balcombe told BBC Radio Solent: "They're brilliant additions, you need strength in depth in your bowling.
"We can definitely be incredibly competitive and I'd like to think promotion can be in our sights."
After taking an impressive 59 championship wickets in 2012, Balcombe was less successful last season, picking up just 22 victims at an average of over 50, and acknowledges he will be under pressure to retain his place in the side.
He said: "Competition is always good, to keep you looking over your shoulder and make sure you're the one on the team sheet.
"The bottom line is if you don't get 20 wickets you're not going to win matches.
"We need to be conscious of that, and of bowling in partnerships and working together and I have to match up with 'Colesy' and likewise with Kyle and 'Tommo' [James Tomlinson] and get everybody firing together. It's maybe something we haven't done in the past.
"I can't wait to pick Kyle's brains. He's obviously a world-class bowler and it will be great to pick up information from him."
Balcombe is also looking forward to working with new first-team coach Dale Benkenstein, who has joined the county after giving outstanding service to Durham.
Benkenstein has made improving the county's four-day record a priority.
"He was always good to play against, very ready to talk and share information and chat, and it's even better when he's on your side," said Balcombe.
"For the last few years it's been a building process, we've obviously done very well in one-day cricket, but now it's our time to show what we can do in four-day cricket and lay the foundations for something long-term, not just quick success.
"We're building a squad that can challenge and the different additions will help us do that."