Jonathan Trott set for Warwickshire comeback in April
By Sam Sheringham
BBC Sport
Last updated on .From the section Cricket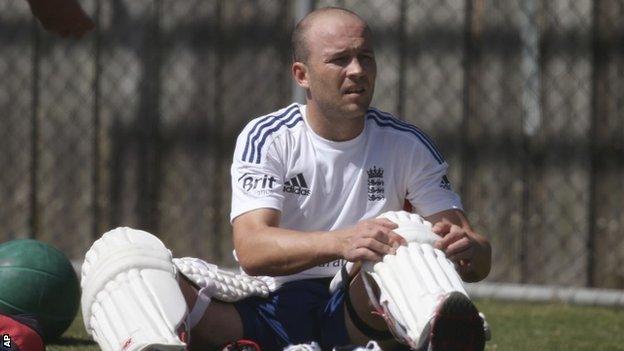 Jonathan Trott is set to make his comeback for Warwickshire in April and is determined to force his way back into the England team.
But Dennis Amiss, chairman of Trott's Warwickshire benefit committee, said the player will face Gloucestershire in a friendly and is "raring to go".
"He's still very hungry," said Amiss. "He wants to continue succeeding both for Warwickshire and for England."
Trott, who has scored 3,763 runs in 49 Tests for England at an average of 46.95, has been granted time for a family holiday while Warwickshire are on their pre-season tour in Barbados.
But he will join up with the squad on their return and has been earmarked to play against Gloucestershire at Edgbaston on 1 and 2 April, in the first-class match against Oxford University from 7 April and the Bears' County Championship opener against Sussex from 13 April.
Former England batsman Amiss, who was Warwickshire chief executive when Trott joined the county from South Africa in 2002, has spent time with the player recently and is encouraged by his state of mind.
"He's doing very well," Amiss added. "He's had a great rest, which is very important, and he is raring to go again.
"Cricket is his passion and I believe he has qualities, as we've seen, to be able to score a mass of runs for Warwickshire to get himself back into the England side and regain his position."
Trott, who scored a century on his England debut in the 2009 Ashes against Australia, has not spoken publically since he left England's disastrous Ashes tour on 25 November, stating: "I don't think it is right that I'm playing knowing that I'm not 100%."
Amiss added: "I think it was essentially burnout. The England & Wales Cricket Board has helped him while he has been back. Everybody has given him a lot of help. Rest has been the most important thing."
Trott, who has a one-day average of 51.25 from 68 matches, is understood to have held talks with England & Wales Cricket Board managing director Paul Downton.
England's first home fixture of the summer is a one-day match against Sri Lanka on 20 May.