England embark on road to redemption in West Indies
By Sam Sheringham
BBC Sport
Last updated on .From the section Cricket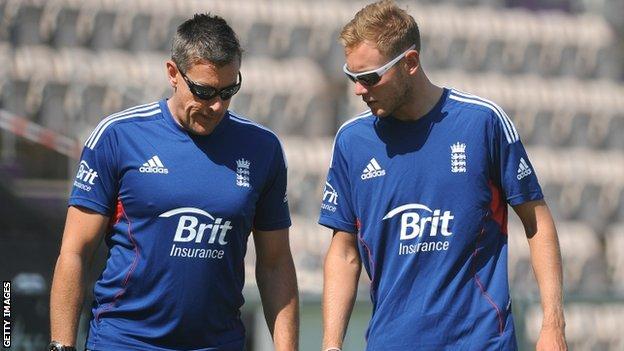 England could have chosen more favourable surroundings for the first steps on their road to redemption.
Instead, life after the Ashes debacle begins in Antigua, the Caribbean island where they were flayed for the fastest century in Test history by Viv Richards and twice pummelled for record-breaking scores by of 375 and 400 by his fellow West Indies icon Brian Lara.
Perhaps England will take solace from the fact that it will not be the storied Antigua Recreation Ground, but the less atmospheric Sir Vivian Richards Stadium that will host their three one-day internationals against the West Indies, starting on Friday.
They will be followed by three Twenty20 matches in Barbados as Stuart Broad's team tune up for the World T20 in Bangladesh in March and April.
Although the tour features no Test cricket and an England party full of Twenty20 specialists, it does offer an early chance to move on from the abject humiliation in all three series down under, including the 5-0 Test defeat by Australia that ended the England careers of team director Andy Flower, batsman Kevin Pietersen and spinner Graeme Swann.
"These are the first tentative steps in trying to come out into the sunlight again after the hideous tour of Australia," says BBC cricket correspondent Jonathan Agnew.
"This is important for the way England feel about themselves. In a way it is a good thing that they are playing again so soon. For the team to set off in a new direction, without Pietersen, they have got to turn things around."
The coach
A turnaround in fortunes would do no harm to Ashley Giles's chances of landing the head coach's job on a permanent basis, with interviews for Flower's successor to be held after the World Twenty20, where England's group-stage opponents include South Africa and New Zealand.
The former England spinner's stock fell after he oversaw the 4-1 and 3-0 defeats in the one-day and Twenty20 series in Australia, but he remains the favourite to take over from Flower and will have been encouraged by the wording of last week's job advert from the England & Wales Cricket Board, which invited applicants who had enjoyed success at county as well as international level.
With the slate clean, and the overbearing figure of Flower no longer lurking in the background, Giles has the opportunity to impress his employers by fostering a culture in which players think for themselves on and off the field, rather than being hamstrung by the fear of failure and obsession with computer analysis.
Equally, should England's miserable form continue, Giles - who is once again without the services of several rested stars - could actually find himself sliding down the list of candidates.
"Ashley should already have been given the job - he shouldn't effectively be on trial like this," says Giles's former England team-mate Steve Harmison.
"Ashley is an all-round good bloke. He is very honest, will not mince his words, and will tell you straight if you are not doing it. He's a very good coach, but you are only as good as the team you take out onto the field and he has not had a chance to pick England's best players.
"With the squad he has at his disposal, he will do well to get out of the group stage in Bangladesh."
The captain
Giles will be working in tandem with Stuart Broad, who will take on the one-day captaincy as well as the Twenty20 leadership in the absence of the rested Alastair Cook.
By asking Broad to put his occasionally fragile body through another seven weeks of unbroken cricket, England are taking a gamble on the fitness of the player who featured in more international matches than any other squad member on their Australia tour.
Seen from another angle, however, Broad has the chance to stamp his mark on the culture of the team and establish himself as a serious rival to Cook.
"If they come back from Bangladesh as a vibrant team with more spirit and the right ethics, we could have a situation where there is a legitimate alternative to Cook," says Agnew.
"It is down to Broad - he's got to lose all that hot-headedness, show he can control his emotions and be a calm, calculated man who people can follow.
"England are right to persevere with Cook for now, but his form has to improve and so does his captaincy nous.
"Michael Vaughan took the Test captaincy from Nasser Hussain through one-day success - it can be done."

The contenders
Broad is not the only England player for whom the next few weeks could have long-term implications.
With uncertainty surrounding several spots in England's Test team, players such as Eoin Morgan, Jos Buttler and Chris Jordan will know that further eye-catching performances in the international arena can only improve their chances of featuring in the first Test against Sri Lanka in June.
Opportunity also knocks for the uncapped trio of Worcestershire all-rounder Moeen Ali, Lancashire spinner Stephen Parry and Nottinghamshire left-arm paceman Harry Gurney.
If the door to the England team has appeared closed in the past, it is now in danger of being blown off its hinges.
"The most obvious hole in England's Test team has been left by Kevin Pietersen and I think Moeen Ali is a prime contender," says Harmison. "He scored more than 2,000 runs in all competitions last year and took 20 wickets.
"If England go for Scott Borthwick at eight, Ali is good enough to bat at five and help out with a few overs of spin. Bangladesh could really suit his style of play and if he gets the shirt, somebody will have to take it off him."

The Collingwood factor
If England really are spooked by a return to Antigua, they can draw comfort from the location for the three Twenty20 internationals that make up the second half of the tour.
Where better to finish off than the Kensington Oval in Barbados - where a champagne-soaked Paul Collingwood lifted England's only global title at the World Twenty20 in 2010 - before setting out to regain the trophy?
Three-time Ashes winner Collingwood has been brought back into the England set-up as an assistant coach, and Harmison believes his former Durham and England team-mate can help get the players enjoying their cricket again.
"Colly is a great tourist," says Harmison. "He loves being in hotels, being in the sun and has a sense of fun that can be very infectious.
"Playing international cricket is tough mentally, so it's always nice to have people around who can lighten the mood.
"But Colly has a serious side too and will be highly respected by all the young players in that England squad. Nobody will work harder than Paul to turn England's fortunes around."