ICC World Cricket League: Jersey set sights on Division Four
Last updated on .From the section Cricket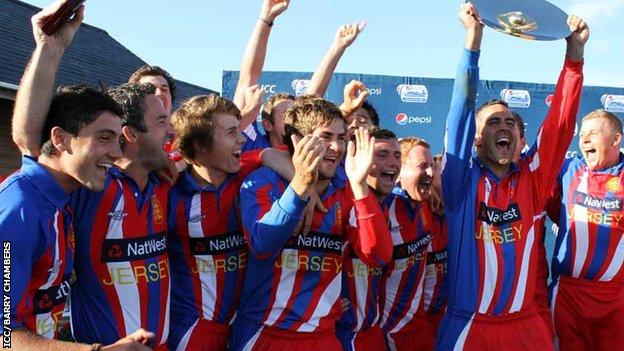 Jersey Cricket Board chairman Ward Jenner says the senior team's sights are firmly set on promotion to Division Four of the ICC World Cricket League.
Neil MacRae's side compete in Division Five of the competition, which gets under way next week in Malaysia.
"We've got a really strong squad, probably the strongest we've had the chance to select for all our world tournaments," he told BBC Radio Jersey.
"I'd be lying if I said we didn't have big hopes. We're aiming for promotion."
Jersey, who were promoted from Division Six last year, will fight it out with Channel Islands rivals Guernsey, hosts Malaysia, Cayman Islands, Nigeria and Tanzania with the top two sides assured of a place in Division Four.
"It's obviously going to be tough. We're in alien conditions and playing out of season," said Jenner.
"We know quite a bit about a number of our opponents. We've played all the sides before except the Cayman Islands and we have an idea from their ranking how they're doing."
Experienced batsman Dean Morrison will be one of Jersey's key players in Malaysia after satisfying selection criteria in relation to the amount of time he spent on the island.
"It's a huge boost to have him back," said Jenner.
"He's a very, very experienced batsman and played some very high level cricket and some people in Jersey don't realise quite how high a standard he's played and what he's capable of achieving.
"Apart from him we have a very young squad and you need some guidance and maturity which he will bring to it, he'll perform for himself and the team but also bring on the young players in the team."