Kevin Pietersen exit improves dressing room - Matt Prior
Last updated on .From the section Cricket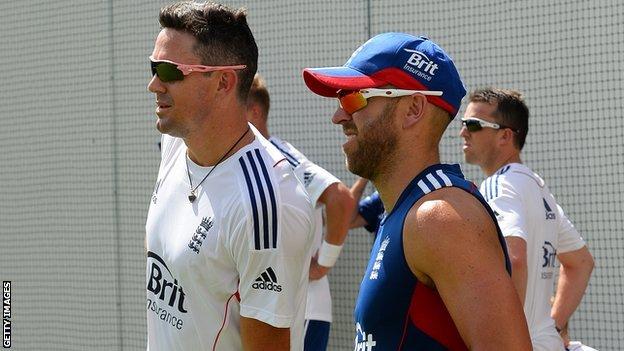 The England dressing room will be a better place without Kevin Pietersen, says wicketkeeper Matt Prior.
"They only want people in that dressing room that are going to be passionate about England winning and performing," Prior, 32, said at an event in Dubai.
Pietersen responded by writing on Twitter: "Fewer Q&A's, more Sussex nets methinks, Matt Prior! #josbuttler."
In his tweet, Surrey batsman Pietersen was goading Prior, 32, about the poor form which saw him dropped for the final two Tests of England's 5-0 Ashes whitewash.
Lancashire's Jos Buttler, 23, impressed when he took the gloves for the subsequent limited-overs matches against Australia and has been tipped to make the step up to the Test side.
Graeme Swann, a former England team-mate of the pair, called Prior "naive" and Pietersen "childish".
"It's another disappointing episode," said the retired spinner on BBC Radio 5 live. "Matt's been a bit naive and Kev's come back in a childish way. Gone are the days of phoning someone up and thrashing it out; it involves a million people on Twitter these days.
"I'm sure Kev's still got Matt's number and could have phoned him up.
"I still don't know what exactly happened but I've been assured by the one or two friends I still have in the team that things did happen.
"I'm as intrigued as anyone because Matt was one of Kev's biggest allies.
"Matt was one of the reasons why Kev was reintegrated back into the team when a lot of players, myself included, were thinking there's no way he should play again after what he did to Andrew Strauss [against South Africa].
"But guys like Alastair Cook and Matt Prior talked us round. They said Kevin can change and he did for the 18 months or so that I was involved."
Pietersen, 33, scored 8,181 runs in 104 Tests and 4,440 runs in 136 one-day internationals, but was briefly dropped in 2012 for sending "provocative" text messages about England players to members of the South Africa squad.
He was "reintegrated" into the England camp later in the year, but his role in the defeat in Australia came under scrutiny after reports he criticised then coach Andy Flower in a team meeting.
Pietersen was released from his central contract earlier this month, with ECB managing director Paul Downton saying: "The time is right to rebuild not only the team but also the team ethic."
Asked during a question-and-answer session in Dubai if the dressing room would be a better place without Pietersen, Prior said: "Yes, it will.
"I think one of the biggest things they (the ECB) want to rediscover is the value of playing cricket for England, the honour and the pride you need to show as an England cricketer."
On regaining his place in the England team, Prior added: "I have more passion now than I have ever had to get back in that team, turn things around and get back to winning ways."