Graeme Smith: English cricket's biggest foe says farewell
By Sam Sheringham & Stephan Shemilt
BBC Sport
Last updated on .From the section Cricket201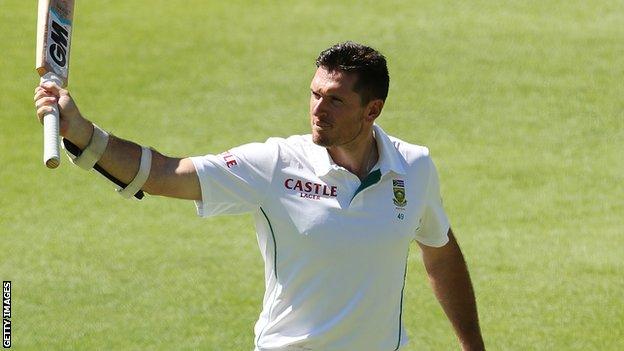 Before the first Test at Edgbaston in 2003, England captain Nasser Hussain was so unfamiliar with his young South Africa counterpart Graeme Smith that he introduced him to the match referee as "Greg".
By the end of the match Hussain had been so scarred by the 22-year-old's brilliance that he promptly walked out of the job.
Smith's innings of 277 and 85 in Birmingham set a pattern for his career as he saved some of his very best performances for tours of England while wearing down his opposite numbers in the process.
The Johannesburg-born left-hander, who retired from international cricket on Wednesday, followed up his Edgbaston marathon with another double hundred at Lord's and went on to claim a hat-trick of England captains as both Michael Vaughan in 2008 and Andrew Strauss in 2012 quit following series defeats in which Smith was influential.
Vaughan told BBC Radio 5 live: "He's been a tremendous player for South Africa and an incredible leader.
"Whatever the situation, you always felt he was trying to grab the initiative in his way. He would always take on the best bowler in the opposition."
While England skippers came and went, Smith's longevity has seen him captain in a world-record 109 Test matches - 108 for South Africa and one for a World XI. Of the eight men to have led South Africa since their readmission, he has skippered more Tests than the other seven put together.
When Smith took the job from Shaun Pollock, he had only eight Tests to his name. South Africa had just been knocked out of their home World Cup in the first round and the spectre of Hansie Cronje, who died a year earlier, still hung over the Proteas.
Though his final series against Australia has ended in defeat, Smith leaves his side at the top of the world rankings. They have not lost a series away from home in eight years and the loss to Australia - so nearly avoided by a Smith-like rearguard on the final day - is only their second in 26 overall.
"He was very mature for his age when he came into the team," said Pollock. "His big physique created a certain presence in the changing room and on the field.
"Some criticised him for being brash, but he backed up his positive attitude with one great performance after another.
"Like all great sporting captains, Graeme led from the front. His own character enveloped the team and he established a wonderful rapport with team-mates. He is not going to be easily replaced."
Smith's style was to lead from the front. In Test history, only India's Sunil Gavaskar has scored more runs opening the batting than Smith's 9,265.
When South Africa made 414-4 - the second highest run chase in Test history - to beat Australia in Perth in 2008, Smith got a hundred. When the Proteas stunned the same opposition with a world-record one-day international chase of 434 in 2006, Smith set the tone with 90 from 55 balls.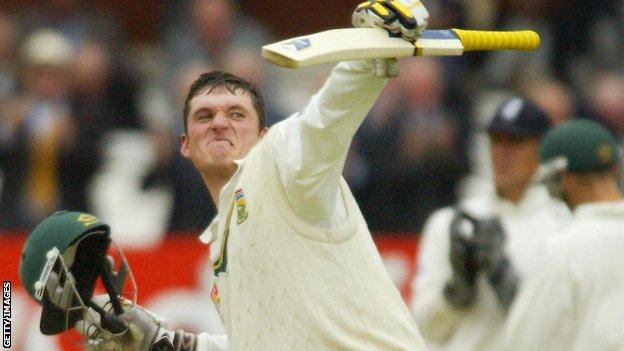 But there wasn't just run-scoring in glorious victory - there was also bravery in defeat.
On the 2008-09 tour of Australia, Smith had already taken South Africa to their first series win down under when he broke his hand in the first innings of the final Test.
On the fifth day, with Australia were closing in on victory, South Africa lost their ninth wicket with 8.2 overs remaining. Match over? Not for Smith.
Even though he was unable to dress himself, the captain walked out at number 11 in a bid to defy Mitchell Johnson. He lasted for 17 balls and, when he was finally bowled by Johnson, there were only five minutes and 10 deliveries left in the match.
"He went out of his way to make sure he proved to his team-mates that he was the leader," said Vaughan.
"He irritated the opposition, including myself, but you always felt that he was right in charge of that unit."
It was presence, as much as technique, that saw Smith force his way to second on the list of South Africa's all-time Test run-scorers, behind Jacques Kallis, and 12th in the world overall.
With a closed-faced, around-the-front-pad style that was as unattractive as the baggy jumper he often wore, Smith's sheer force of will somehow forced opposing attacks to bowl to his strengths.
It was an approach that baffled England more than most. An average of 56.97 against England was only bettered by the 69.26 amassed against West Indies. On his last tour in 2012, Strauss's men even began the first morning of a Test match with five men on the leg side.
"He always looked so ugly, so terrible, so unpleasing to the eye," said former England off-spinner Graeme Swann. "Yet, he was so hard to bowl at."
Vaughan, who took over as England captain in between Smith's twin double centuries of 2003, said: "In that series, I think we had about eight meetings on how to try to get him out.
"If we bowled straight he would hit us through the on-side. Did we bowl wide because he supposedly couldn't play through the off-side? He still found a way."
The shock of 33-year-old Smith's retirement now forces South Africa to confront a problem that almost reared its head three years ago.
In 2011, following a World Cup quarter-final defeat by New Zealand, he gave up the one-day captaincy and had to be talked out of quitting the Test job by coach Gary Kirsten.
The decision proved a wise one as Smith, in his very next Test, scored an unbeaten 101 to help South Africa to an eight-wicket win over Australia despite a 188-run first-innings deficit.
Indeed, though his final series against the Baggy Greens has earned Smith just 45 runs in six innings, as recently as October he was scoring a match-winning 234 against Pakistan in Dubai.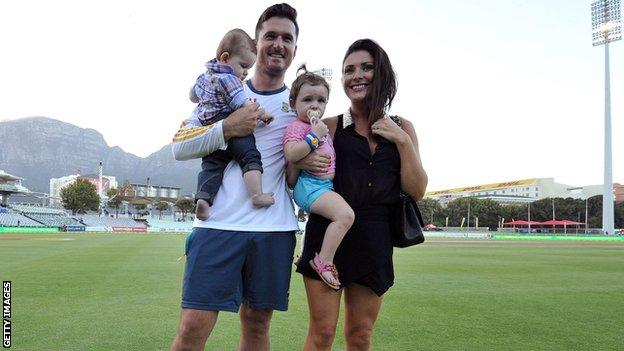 Now, the new leader, be it AB de Villiers or Faf du Plessis, must take the Proteas forward without Smith and Kallis, who retired in December.
Between them, they scored 22,554 runs and took 369 catches in 283 Tests. Their combined total of 300 wickets is rounded up by eight from Smith's mechanical off-breaks.
"They have been stuck in concrete in the slips for so many years, intimidating a batsman as you look behind," said Vaughan.
"Now, whoever ends up being there will not have the same presence as Graeme Smith and Jacques Kallis."
Although the suddenness of Smith's retirement, after three days of the Newlands Test, caught many by surprise, there had been signs that he was planning to wind down his career.
Smith married Irish singer Morgan Deane in August 2011 and was granted Irish citizenship in January. Four weeks ago he posted photos on Instagram of his wife with their two young children at the home in Ireland with the caption: "Always miss these guys when away!... last one I promise."
As well as spending more time with his family at their homes in Ireland and London, Smith will devote his energy to helping Surrey regain their place in Division One of the County Championship when he joins up with the county in April.
His international career may be over, but his days of wreaking havoc on English cricket fields could continue for some time yet.