George Dockrell says World Twenty20 format could help Ireland
Last updated on .From the section Cricket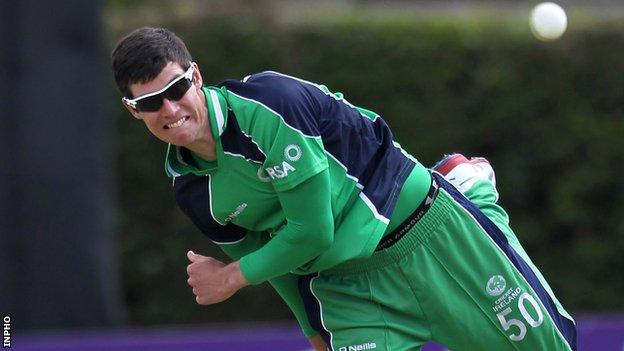 Ireland spinner George Dockrell says the format for the World Twenty20 which starts in Bangladesh later this month could benefit the Irish.
The Irish must win an opening group against Zimbabwe, the United Arab Emirates and the Netherlands to earn four games against full member nations.
Dockrell says the Irish will be sharp if they win the first round group which starts against Zimbabwe on 17 March.
"I feel it will give us a better chance," said the Somerset spinner.
The 21-year-old says confidence is high in the Ireland squad after the recent tour of the West Indies which saw Phil Simmons' team claim a Twenty20 victory over the current world champions.
"Things were coming together quite nicely in the West Indies and we made some great strides in where our cricket was at," said Dockrell.
"This tournament is going to be big for us and we are probably going into it with a lot more expectation."
After five days at home following the West Indies tour, Dockrell and his Irish team-mates left for Dubai on Monday morning for their pre-World Twenty20 training camp.
"We're really looking forward to getting some good training camp days under our belt and taking that into Bangladesh," said Dockrell.
Aged only 17, Dockrell burst on to the international scene at the 2010 World Twenty20 tournament in the Caribbean when he took four wickets against the West Indies and also bowled impressively against England before that fixture was abandoned.
Dockrell's emergence, inevitably, led to him being linked with a possible switch to England colours, but the spinner has spoken in recent times about his dream of playing Test cricket for Ireland in the future.
The Dubliner admits that he enjoys Twenty20 cricket even though, as a spinner, he can be on the end of some heavy hitting.
"Twenty20 cricket is great fun. Batsmen tend to be quite aggressive - especially toward spinners - but at the same time, it gives you an opportunity to get wickets if things go your way.
"I'll definitely relish that challenge and the opportunities that it will bring when batsmen are taking risks."
While Dockrell is not setting "any limits" on what Ireland can achieve in Bangladesh, he acknowledges the importance of their opening match against Zimbabwe on 17 March, St Patrick's Day.
"There's no doubt Zimbabwe are a good side but we beat them the last time we played them, which was in a T20 game in Sri Lanka," added Dockrell.
"We have also beaten the Netherlands and the UAE a number of times and we'd be backing ourselves to get through to the next stage.
"We just need to get to the next stage and from there, based on the cricket that we played in the West Indies, there is no limit to how far we should be able to go in the tournament."
If Ireland successfully emerge from the group, they will play against Sri Lanka, South Africa, New Zealand and England in the second round.