Drug testing in cricket: All players 'hair tested' in pilot scheme
Last updated on .From the section Cricket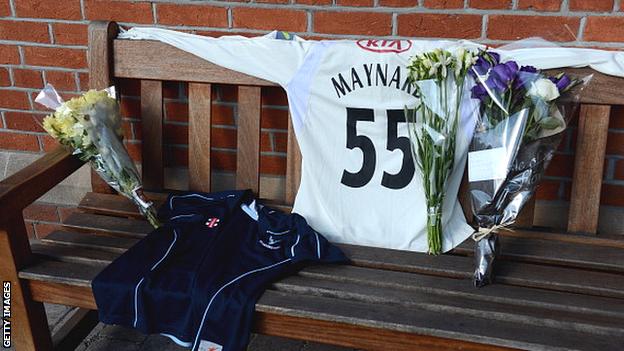 Every professional cricketer in England and Wales has been "hair tested" for illegal drugs, the BBC has learned.
It marks a significant increase in the scope of testing in domestic cricket, which employs over 400 players.
Testing hair samples can reveal drug use stretching back over as long as three months.
Cricket was urged to step up its testing after the death of Surrey batsman Tom Maynard, who died on a railway line in London in 2012.
Maynard, 23, was struck by a Tube train while drunk and high on drugs.
After his inquest in February 2013, English cricket bosses announced that they planned to step up testing for recreational drugs.
Speaking after a jury at Westminster Coroner's Court returned a verdict of accidental death, coroner Dr Fiona Wilcox urged cricket and other sports to introduce hair testing to determine long-term drug habits.
The Professional Cricketers Association (PCA) and England and Wales Cricket Board instigated a pilot project involving all 18 first-class counties with the aim of discovering how widely cocaine and cannabis, among other drugs, were used by professionals.
Cricketers were informed that the results of the pilot test would remain confidential, with counselling and treatment offered initially in the wake of a 'positive'.
The PCA will not reveal the specific results of the pilot testing scheme, but when contacted by BBC Sport a spokesman described the results as "excellent".