James Vince: Hampshire looking to grow batsman's leadership skills
Last updated on .From the section Cricket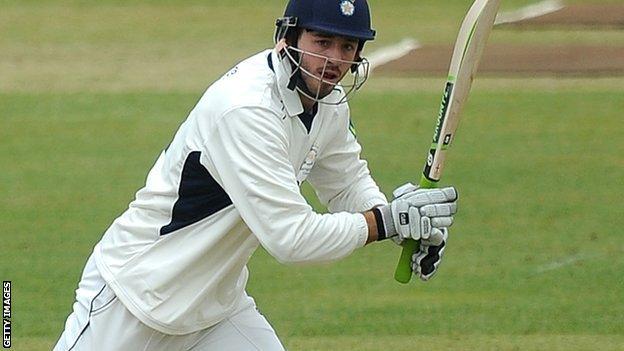 Hampshire director of cricket Giles White says new vice-captain James Vince can mature into a future club skipper.
The 22-year-old was named as Jimmy Adams' deputy for 2014 on Monday.
White told BBC Radio Solent: "With the vice-captaincy we're looking to grow leadership qualities in a young person.
"That fits with a certain age group and succession for Jimmy [Adams] one day, which will hopefully be a long way in the future, and James is the guy that we've picked out at this stage."
He continued: "He's got a good cricket brain, thinks about the game well and has got respect from his peers.
"He was a natural choice in many ways. Succession is one part of it.
"This is an opportunity for him to develop. We want to encourage leadership qualities within the younger group.
"Leadership takes some moulding and having hands-on experience will help that develop."
Since making his debut in 2009, Vince has scored more than 7,000 runs in all formats, including 13 centuries.
White said the extra responsibility was also recognition of the way the Sussex-born batsman had developed all facets of his game.
"His bowling's been encouraging too, so there are lots of positives with James at the moment. He's a young man with lots to look forward to," he added.
"We've got some experienced players, but we've also got a young group that's maturing all the time and James has shown good progression over the last year or so, both on the pitch and off the pitch."