Ask Graeme Swann: Ex-England spinner answers your questions
Last updated on .From the section Cricket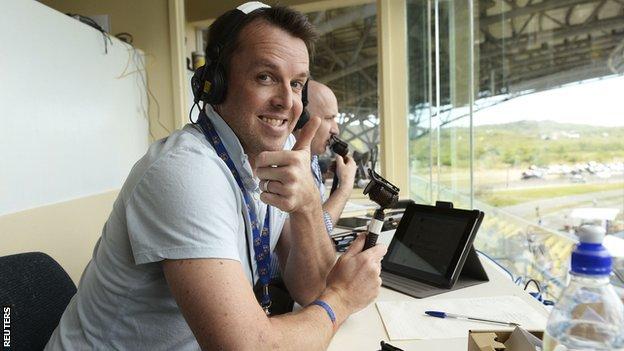 Former England off-spinner Graeme Swann answered your questions on Test Match Special during the interval between innings of the final one-day international between West Indies and England in Antigua.
Here are the TMS new recruit's answers on his toughest opponents, the Indian Premier League, England's wicketkeeping options, and Alastair Cook's singing.
You can listen to the full "Ask Swanny" session on the TMS podcast page, where you can also find a Q&A with West Indies legend Sir Viv Richards.
Graeme started by addressing the criticism he has taken since retiring from cricket midway through England's Ashes tour down under.
"I've taken a lot of stick from people accusing me of abandoning my team-mates because I was losing, but the simple fact was that my elbow wasn't good enough to bowl well enough to keep me in the team. In that tour game at Alice Springs after the first Test, Monty [Panesar] was getting turn and bounce but I couldn't get the rotations on the ball and I knew something wasn't right.
"I thought I was going to be dropped at Perth, but Alastair Cook told me he wanted me in, and when Shane Watson got after me in the second innings, I felt I had nowhere to go. It was a horrible feeling. Look at the footage of me - if that's the standard of spin bowling you want in the Test team, you're following the wrong Test team."
What about returning to county cricket?
"I can't justify carrying on in county cricket as I wouldn't be good enough for that either. I'd love someone to offer me a contract to play as a batsman."
Who was the best player you bowled to?
"I never had to bowl at Ricky Ponting when he was in great form, so I never minded him. I bowled well against Hashim Amla in South Africa, but then in England when he was in good nick, he was very hard to bowl at. But the two who were most consistently hard to bowl at were Shane Watson and Jacques Kallis - he was a superb player.
"I remember playing the Windies in a one-day game at Bristol with a ludicrously small straight boundary. Chris Gayle was smashing Jimmy Anderson and Stuart Broad everywhere and Andrew Strauss asked me to bowl with a fairly new ball. First ball, Gayle hit me about 150 yards out of the ground. Then I bowled him an arm ball which hit his pads and bowled him - I ran to Straussie, hugged him and said 'don't you ever make me do that again'."
Did you enjoy working with Mushtaq Ahmed as England's spin bowling coach?
"Mushtaq was a great guy to have with the team. I don't know why England have a full-time batting coach, bowling coach and fielding coach but always a part-time spin coach. There should be a full-time spin coach and it should be Mushy."
Could Moeen Ali be a Test all-rounder for England?
"Moeen has potential - but what we should avoid is saying 'he got 50 in this game and he bowls a bit, get him in the Test side, quick'. That can ruin a player. He needs more overs under his belt before he can be seen as a Test all-rounder. If he can bowl 25-30 an innings and bat at four or five, then you can build a team around him and Ben Stokes."
How do you rate the Test chances of your former Nottinghamshire team-mates James Taylor and Alex Hales?
"I know James Taylor has got what it takes. He scores runs for the Lions and against the touring teams, I wonder whether his size counts against him. Maybe he'll play the first Test of the summer, maybe he'll have to keep churning out runs for six, 12 or 18 months but he's as professional a bloke there is. Alex Hales is not a Test batsman yet. The fact is, he averaged eight or nine in County Championship cricket last season and got dropped by Notts. If you throw him into a Test match, you could ruin him."
As a fellow professional, were you pleased for Mitchell Johnson (retrospectively) after the stick he received from the Barmy Army in the 2010-11 Ashes?
"Mitchell Johnson was the major difference between the two teams this winter. But when you go for a beer with him afterwards, he's a meek, mild and nice bloke. Last time we were in Australia, he was bowling as though he had a blindfold on and he got publicly humiliated every game. But he came back magnificently - if Johnson was taken out of that team, they'd quickly fall back into the pack with the other sides, but he makes them a formidable team at the moment."
What has been your greatest moment in cricket?
"The Northamptonshire Under-13s final, I think I was about eight or nine. In the final their big gun came out and skied it over my head at cover. I'd never taken a catch before, but I held it. Forget the Ashes, that was my favourite moment in cricket. From then on, I knew it was the greatest game in the world and hoped it lasted for ever."
Who should replace you to lead the Sprinkler dance and the team song?
"I'm nervous about our team song - I can't say what it is because it's got a few rude words in it - but I've never known a more tone-deaf changing room. Alastair Cook, for someone who used to be a professional choirboy, sounds like a cat being dealt with."
Do you regret not having played in the Indian Premier League?
"I'd love to have a couple of million in the bank, but I wouldn't have wanted to miss playing international cricket or seeing my wife and children. The last two months I've had at home have been the best two months of my life in one way, and had I played at the IPL, I wouldn't have had that. Don't listen to anyone who tells you the IPL is about the cricket - it's blatantly about the money."
Who should be going to the 2015 World Cup with England?
"From a Notts perspective, I'd love to see Harry Gurney going, and I'd love to see big Samit Patel shed a few pounds and get himself back in the reckoning as he's got so much talent."
Would you pick Jos Buttler for the Test team?
"He's not ready yet as a keeper or a batsman in my opinion. Matt Prior has had a poor nine months since New Zealand but he's the heartbeat of the team and a vital batsman at number seven. He'll play this summer. To throw Jos in now... he's not kept much in first-class cricket, he needs two or three years with Lancashire but I think it could set him back to throw him in now."
Which cricketer do you wish you could do an impression of?
"Sir Viv Richards. The coolest man ever."
Graeme Swann was speaking on Test Match Special on BBC Radio 5 live sports extra