Jos Buttler 'one of cricket's finest finishers' - Viv Richards
Last updated on .From the section Cricket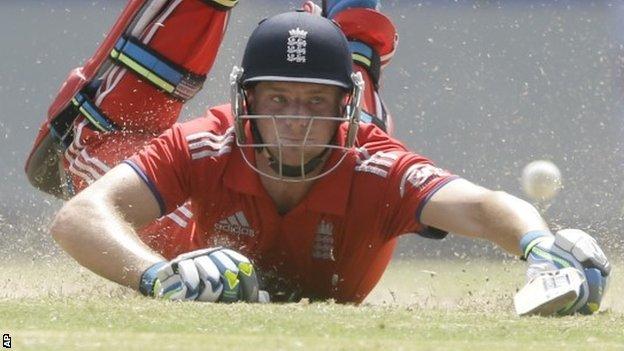 England batsman Jos Buttler is "one of the finest finishers in cricket" says West Indian legend Viv Richards.
"He's one of my favourites. He's one of the finest finishers in world cricket. He looks a class act," Richards said.
Richards added that sacked batsman Kevin Pietersen was a scapegoat for England's poor Test form.
Pietersen was released from his central contract in February with England manager director Paul Downton saying the decision was necessary "to rebuild not only the team but also the team ethic" in the wake of an Ashes whitewash.
"I'm just saying it's sad, to prematurely get rid of an individual like that," said Richards.
"There must have been much more in terms of what went wrong. You were looking for some heads to roll, and for some reason, Kevin Pietersen's head was in the way."
Buttler's promotion from the one-day side into the Test side has been suggested as a way of replacing Pietersen's aggression in England's batting line-up.
Pietersen himself suggested on Twitter that Buttler could replace fellow wicketkeeper Matt Prior in the Test side.
Prior was dropped for the final two Tests of England's 5-0 series reverse against Australia after averaging 17.8 in the first three meetings.
Buttler's swift middle-order scoring was a feature of the one-day series that followed with the right-hander top-scoring with 71 in 43 balls in England's only win.
After signing for Lancashire from Somerset in October, Buttler said that he hoped the move would help his chances of international recognition at Test level.