World Cricket League: Guernsey beaten by Nigeria in final over
Last updated on .From the section Cricket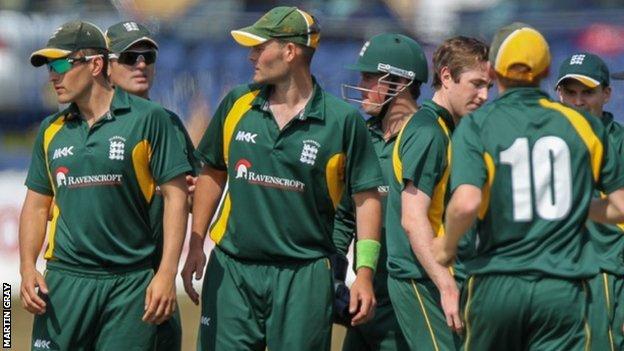 Guernsey were dramatically beaten by two wickets by Nigeria in the final over of their ICC World Cricket League Division Five match in Malaysia.
Olajide Bejide smashed a six off the first ball of Matthew Stokes over to clinch victory.
Lucas Barker helped Guernsey to 192-9 from their 50 overs, top scoring with 45, while captain Jamie Nussbaumer took three wickets.
However, Bejide's unbeaten 31 proved the match-winner.
The defeat is Guernsey's second in two days to start the tournament in Malaysia, having been comfortably beaten by Cayman Islands in their opener on Thursday.
While seven batsmen reached double figures, Nussbaumer admitted they failed to take full advantage.
The skipper notched 15 runs, with Zak Damarell (21) James Gale (23) Lee Savident (24) David Hooper (15) Ben Ferbrache (27) failing to make more after solid starts.
"We possibly missed out on the batting, but the guys didn't give up the last minute and I can't fault them for that," said Nussbaumer
Guernsey Cricket Board chief executive Mark Latter said conditions, with temperatures soaring to 40C, effected players.
"The guys looked like a team that were struggling a bit in those conditions," Latter told BBC Radio Guernsey.
"When you have Malaysians and Nigerians tell you it's hot, then it must be hot."
Guernsey next face Tanzania on Sunday.