Glamorgan: Bowler Huw Waters back after season out with illness
Last updated on .From the section Cricket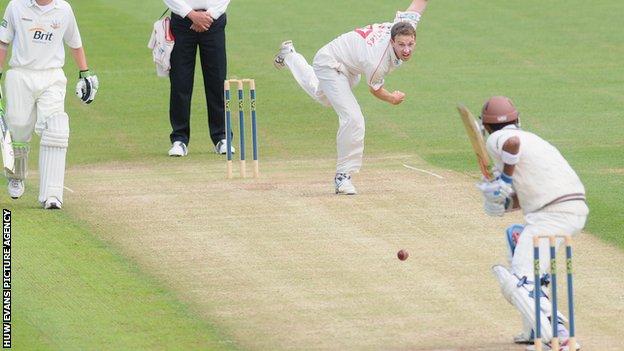 Glamorgan seamer Huw Waters says he is just happy to be back bowling after missing a year due to illness.
Waters, 27, was diagnosed with exercise-induced dystonia, a disorder that causes involuntary contractions and spasms, and missed the 2013 season.
Glamorgan's first game of the season is a friendly against Gloucestershire in Bristol on Wednesday, 19 March.
"I am just pleased to be back because it was a long summer and winter," said Waters.
"I just went down every road possible until I managed to get hold of a neurologist in Cardiff.
"At the time he thought he had a diagnosis and I had to trial a diet and some tablets for a period.
"Lucky enough the tablets are working."
Waters, who signed a new deal with the Welsh county in 2012, is back in training with Glamorgan ahead of the season.
He admits it was frustrating missing out on a season of cricket but now he is on medication and is hoping to resurrect his career at Glamorgan.
"It is quite complicated, but is nowhere near as bad as Parkinson's or epilepsy," said Waters.
"But it's in the same medical bracket and what was happening whenever I did any form of exercise, even a brisk walk, my leg would go into a spasm.
"It would feel like it would do at the end of the say in the field - tired and constricted.
"I had loads of scans and bloods etc and it came down to this condition.
"It's official called exercise-induced dystonia, I just take these tablets now and it controls the spasm."
Waters says he has to be patient but is delighted to be back in training with Glamorgan ahead of the new campaign.
He was named as Glamorgan's player of 2012 in the four-day format, after finishing as the second highest wicket taker (39) with the third lowest economy rate (20.46).
"I have had time out before with injuries but I have known what the time frame was," said Waters.
"This time there was just no answers and people were asking me when I was going to be back fit.
"I didn't know myself, so I am just lucky to have this second chance and intend to take it with both hands."