ICC Cricket League: Division Four campaign 'starts now' for Jersey
Last updated on .From the section Cricket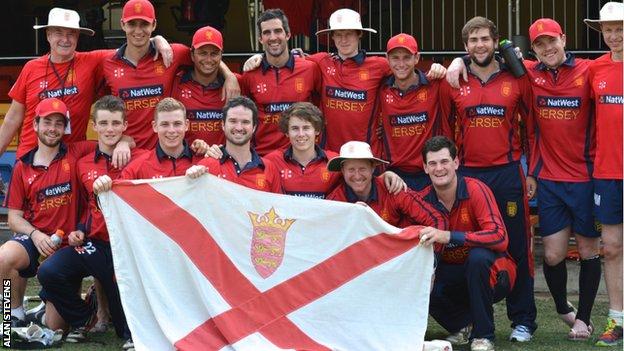 Captain Peter Gough says Jersey can use the rest of their ICC World Cricket League Division Five campaign as preparation for Division Four.
The Channel Islands side have secured promotion with a game to spare, and face rivals Guernsey on Wednesday.
"We have to be thinking about Division Four now," Gough told BBC Radio Jersey.
"We have three months until it starts so we have to think of this as our first game on our journey of getting ready for that."
Guernsey have endured a difficult time in Malaysia, and have been relegated to Division Six after losing all four of their games so far.
"We're massively looking forward to the game on Wednesday - we enjoy playing against Guernsey but we'd be up for the game no matter who we were playing," added Gough.
"I'm just really proud of the guys for putting in the performances they have done.
"It feels amazing - we put so much into this and we were nervous going into the tournament.
"We didn't know quite what to expect with the standard of the opposition and the wickets. It's been a challenging week but we've improved with every game."
Jersey Cricket Board chief executive Chris Minty said the sides's success in Malaysia was a reward for the team and backroom staff's dedication.
"We're all delighted because we worked so hard in the planning and preparation for this," he said.
"It's all come together this week and the boys have played some fantastic cricket - it's not just the winning of the games, but we've won by playing very good cricket indeed.
"I was always confident we would play proper cricket and if anything I've been surprised by how well we've played."
Jersey's promotion means they will be playing at the joint-highest level in their history, with the island's team previously reaching Division Four in 2008.
The tournament will take place in Singapore in June and will see Jersey face Oman, Italy, Denmark, Singapore, and one other team which joins them in being promoted from Division Five.