Jonathan Trott: Drive for success brought on Ashes burnout
Last updated on .From the section Cricket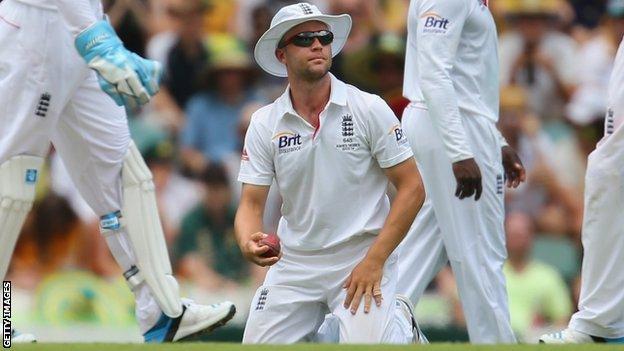 Jonathan Trott has opened up about his England Ashes anguish, revealing he was "emotionally and mentally spent".
The batsman said he was burned out because of his relentless workload, but not depressed, when he left the tour.
"When a snowball gets too big it hits something and completely explodes," Trott, 32, told BBC Sport. "That's exactly what happened to me."
Following rest and sessions with a psychologist, Trott now hopes to win back his England place this summer.
In a wide-ranging interview with Pat Murphy, to be aired in full on BBC Radio 5 live at 21:00 GMT on Monday, Trott also revealed he:
began struggling mentally during the home Ashes series against Australia last summer;

declined an offer to miss the one-day series against Australia before the Ashes down under;

suffered "constant headaches" for five days during the Brisbane Test;

feared going home during the tour meant his England career was over;

now lists "perspective and balance" as the "two key words in my life";

expects to be sledged by Australia in the 2015 Ashes over what happened.
The departure of Trott, who has 3,763 runs in 49 England Tests, after the first Ashes contest in Brisbane in November was put down to a long-standing stress-related condition.
But speaking about it four months on, Trott explained that he was physically and mentally drained by a relentless playing schedule and his desperation to maintain his own high standards.
"It was a culmination of putting myself through the rigours of an international season and not having the right balance between time off and trying to work hard at my game," said Trott.
"To have a successful international career, you have to be fit, but you also have to be emotionally and mentally right. The batteries on those two categories were running low."
Trott first realised something was wrong during the second Ashes at Lord's in July.
"It was like staring at a computer screen and not taking in what you are reading," he said. "I was watching the ball as hard as I normally do, but wasn't seeing it the same. I was putting myself under pressure.
"[Then-England coach] Andy Flower called me over after the Old Trafford Test - I didn't feel great about my cricket."
Trott stayed the course throughout England's 3-0 series victory and then turned down the chance to miss the one-day series in order to recharge his batteries for the trip to Australia.
"I didn't think I had played well enough in the Test series to deserve a rest," he said. "In hindsight, I should have taken a bit of time off. But I didn't - I worked really hard in the nets with [coach] Ashley Giles, two and a half hours a day and doing fitness work after that to be in good shape to go to Australia.
"I got to Australia, had a month there, with only two days off in the whole month. I was just emotionally and mentally spent by the time we got to Brisbane."
It was during the final Ashes warm-up game in Sydney that Trott, despite scoring 83 and 38 not out, realised that he would not be able to see out the tour.
"I shed quite a few tears telling my dad, who was coming to the second Test in Adelaide, which would have been my 50th Test, that I'm not going to go because I can't do it physically and mentally," he added.
"It got to the point during Brisbane where I wasn't sleeping during the Test, I didn't feel physically well. I was having constant headaches for five days in a row.
"Something had to give; I had to give. You can't carry a person on an Ashes tour."
As he said farewell to his England team-mates before boarding a flight home, Trott feared he may be finished as an international cricketer.
"I thought I'm not sure I can continue to do this," he said. "But Andy Flower said 'just be careful on making huge decisions straight away, in the heat of the moment.' Those were very wise words."
Having been given a clean bill of health by the England medical team and an independent psychologist, Trott is scheduled to make his comeback in a Warwickshire pre-season match against Gloucestershire on 1-2 April, but with a different mindset.
"In the past, if I didn't get runs in one of the Test matches, I'd go and work twice as hard to try to ensure I did in the next. Perspective and balance are now the two key words in my life."
This does not mean Trott has lost his international ambition.
"I expect to be in the position to be able to play for England again. If called upon that would be fantastic," he said.
"The start of the season is important so I can get back to cricket, get into the place I need to get to mentally and ready for the international summer."
Trott could face Australia again during the 2015 Ashes in England and is prepared for their players to bait him with references to his problems.
"I wouldn't put anything past them," he said. "They are very competitive. They always want to win. So I'm sure it will come my way. But I've dealt with it in the past pretty well."