World Twenty20 2014: Ireland will not underestimate UAE - O'Brien
Last updated on .From the section Cricket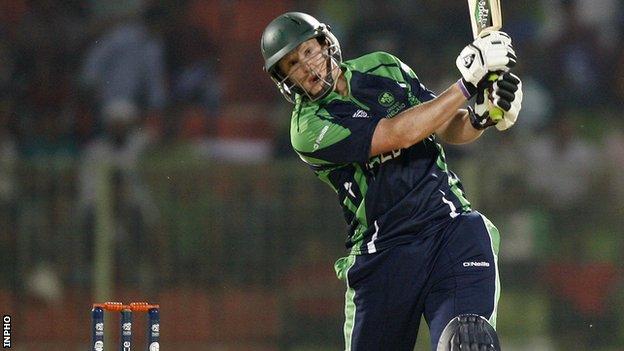 Kevin O'Brien insists Ireland will not underestimate the United Arab Emirates in their second World Twenty20 game in Sylhet on Wednesday.
However, O'Brien, 30, says their opposition will be given full respect.
"No game is easy in this tournament. We have to refocus for tomorrow's game," said O'Brien on Tuesday.
However, the Irish have an impressive recent record against the UAE, having beaten them in their last four meetings over the past 12 months.
In their most recent encounter in late November, Ireland earned a 62-run win at the World Twenty20 qualifying tournament in Abu Dhabi.
Last March, Ireland also earned victory in three meetings in Sharjah, which included a Twenty20 match.
Despite the frantic finish to Monday's opener in Bangladesh, O'Brien says that the Irish have gained confidence from their display.
Paul Stirling's 60 off 34 balls put Ireland in control as they entered the final over needing four runs to win.
But, after losing two wickets, Stuart Thompson needed to scamper through for a single off the final ball to give his side a three-wicket victory.
"We played really, really good cricket up up until the 38th of the match when we took our foot off the gas," added O'Brien.
"But the crucial thing was getting over the line and it was a great two points for us."
Thompson's last-ball heroics continued the impressive form that he produced on Ireland's recent Caribbean tour.
"Stuart Thompson has been magnificent for us over the last four or five weeks," continued O'Brien.
"He's looking good in the nets and hitting the ball really well. He's perfect coming in at number seven."
If Ireland win their remaining Group B games against the UAE and the Netherlands, they will take on Sri Lanka, South Africa, New Zealand and England in the second round.