Matthew Maynard to coach young Glamorgan talent
Last updated on .From the section Cricket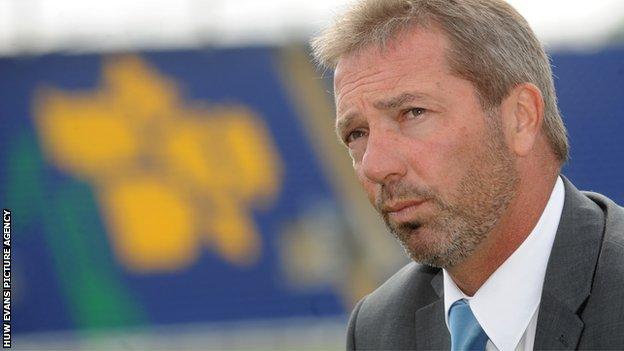 Ex- Glamorgan head coach Matthew Maynard is to combine coaching in the 2014 Caribbean Premier League with helping develop some of Glamorgan's young batsmen.
The duties will also free Maynard to help coach England Under-19 and Lions.
"I think it's a good fit for both the club and myself," he told BBC Radio Wales.
The former England batsman spent three seasons on the Welsh county's management before leaving in 2010.
Maynard was assistant coach of the Zouks in the competition's inaugural season in 2013.
The 47-year-old will be assisted by ex-West Indies batsman Stuart Williams and the side will include current Windies Twenty20 captain Darren Sammy.
The Caribbean Premier League will be held in in July and August.
Jamaica Tallawahs, who will be coached by former South African and Australian national team coach Mickey Arthur, will be defending the title they won in 2013.
Maynard says his part-time Glamorgan role will fit in with the plans of new head coach Toby Radford and his assistants Steve Watkin and Robert Croft.
"I'll be working with three highly-promising Glamorgan players in the first instance and just working with those three guys; not involved with first team or second team.
"I'm really excited about that role at Glamorgan.
"It allows the new coach Toby Radford to set his own stall out with the first team with Steve Watkin and Robert Croft and it won't interfere with them.
"I'm really happy. It also keeps me free to hopefully do some work with England Under-19s and potentially with the Lions later in the summer.
"It just keeps loads of options open for me and I think it's a good fit for both the club and myself."
Maynard believes Glamorgan can impress in one-day and Twenty20 competitions in 2014, but does not expect the young players the Welsh county are developing to make a significant mark in the County Championship.
"I think they'll [Glamorgan] do well," said Maynard.
"They've got some quality young cricketers coming through and we hear of talk of transitions and stuff.
"But I think it's very apparent at Glamorgan now, with a new coach there, and trying to blood some of the young talent, I think that's going to be absolutely key.
"So I still think they're going to be a force in one-day cricket and Twenty20 cricket as they were last year.
"I think the four-day cricket may need a little bit more time as these young players come into the side and get used to playing first-class cricket.
"So I think the future is very strong."
Listen to the Matthew Maynard interview on Radio Wales Sport from 19:00 GMT on Thursday, 20 March.