World Twenty20 2014: England must win first match - Stuart Broad
Last updated on .From the section Cricket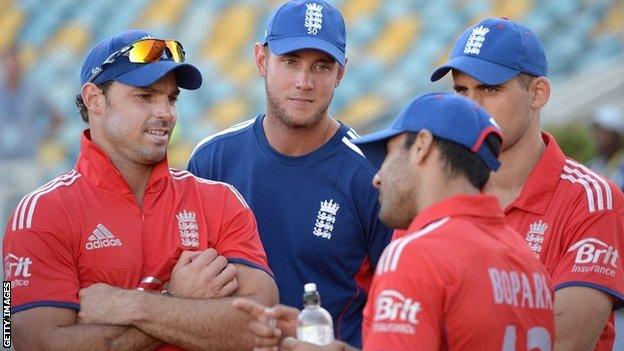 England captain Stuart Broad says victory is "non-negotiable" in his team's opening World Twenty20 match against New Zealand on Saturday.
Also in Group Two are Sri Lanka, South Africa and the Netherlands, with only two progressing to the semi-finals.
"We tend not to start series overly well, but it's a non-negotiable here," said Broad, who is confident of overcoming a recent knee problem.
"You've got to put yourself up there as a front-runner to start with."
Broad missed two games of this month's series in the West Indies but returned for Wednesday's T20 warm-up with India.
"I'm hopeful," he said. "I'm going to bowl two spells in training but the knee has come up well from that game.
"It's given me a lot of confidence. It has been a long winter personally but those 10 days have freshened me up."
England were beaten by both West Indies and India in their warm-up matches and have now lost seven of their last eight T20 encounters.
Broad, however, took encouragement from the 20-run defeat by India.
"The game did us a lot of good as a team," he said.
"Although we lost, I thought it was one of the best death-bowling performances for a long time. The way we played the first six overs with the bat was really good and the fielding with Ravi Bopara at point was a highlight."
The England squad, minus the injured Joe Root and Ben Stokes, includes left-handed batsman and occasional spinner Moeen Ali and Lancashire spinner Stephen Parry, both of whom made their international debuts on the recent tour of the West Indies.
England's first three matches of the Super 10 phase will be day-night games under floodlights in Chittagong.
"It's been noticeably dewy and it looks like that will be a big factor," said Broad, who revealed he had spoken to former England spinner Graeme Swann about the problems conditions could pose.
"He mentioned he had difficulty gripping the ball here," said Broad. "The umpires wouldn't change the ball and it made him very ineffective - and he was one of the best spinners in the world at the time.
"So that could be something to consider with three spinners in our squad."
England have lost their last three T20 series - against New Zealand, Australia and West Indies - and have only managed to reach the World T20 semi-finals once, when they won the tournament in the Caribbean in 2010.
They played New Zealand five times between February and June last year, winning twice and losing twice, with one non-result.
"There's a lot of knowledge about their players and specific plans but it's also about adapting to the conditions," Broad said.
"The great thing about T20 cricket is it's very difficult to predict a winner. Anyone can beat anyone on their day."
New Zealand reached the semi-finals of the first World T20 but have been eliminated at the Super Eight phase in the last three tournaments.
South Africa take on Sri Lanka in the other Group Two match on Saturday.