World Twenty20 2014: Stuart Broad criticises umpires
Last updated on .From the section Cricket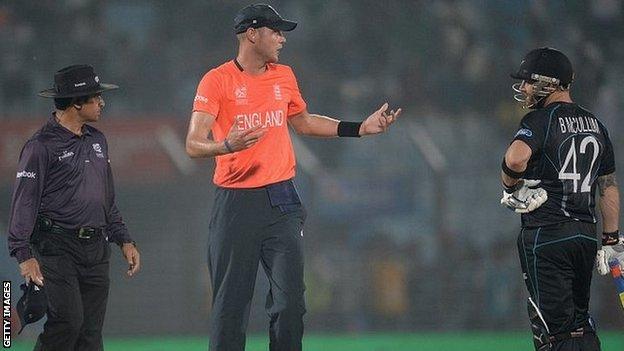 England captain Stuart Broad believes the safety of players was endangered by the umpires' decision to play on during a thunderstorm in their World Twenty20 defeat by New Zealand.
England, who posted 172-6, lost by nine runs on the Duckworth-Lewis method when rain curtailed New Zealand's innings on 52-1 after 5.2 overs in Chittagong.
"It's a game of cricket, you can't put players' safety in danger," said Broad.
"We had a batsman pull away because the lightning flashed before his eyes."
New Zealand captain Brendon McCullum had stepped away from the fourth ball of the fourth over from Broad as lightning lit up the stadium background.
Knowing a storm was closing in and his side needed to bat a minimum of five overs to constitute a match, McCullum took them into the lead by hitting the final ball of the over for six.
Only two more balls were possible before play was suspended for rain and Broad was critical of the decision to play on.
Talking to BBC's Test Match special, Broad said: "We feel a bit aggrieved that we've lost the game and I'm amazed we stayed on after 4.1 overs with the lightning around.
"It's not sour grapes because the New Zealanders feel exactly the same.
"It was unsafe for the players to be out there and, to be as polite as I possibly can, it was distinctly average decision-making.
"I asked the umpires why we stayed on the field and they said they didn't see the lightning as a threat and they didn't see it because it was behind them - I don't agree with that, I was on the field."
"I personally wouldn't have taken the risk."
The Nottinghamshire man was subsequently fined 15% of his match fee by the International Cricket Council for his post-match comments about the officials.
But New Zealand seamer Kyle Mills believed England's defeat may have contributed to Broad's frustration.
"I think that's probably a bit of a hindsight thing, isn't it? If Stuart was on the other end of it, he would be more than happy with the decision," he said.
"In cricket you win some and you lose some, the umpires are trying to make the decisions to the best of their ability."
The defeat continues England's disappointing run of results in international Twenty20 cricket having lost recent series in Australia and West Indies.
England's next match in the tournament is against Sri Lanka at the same venue under floodlights on Thursday.